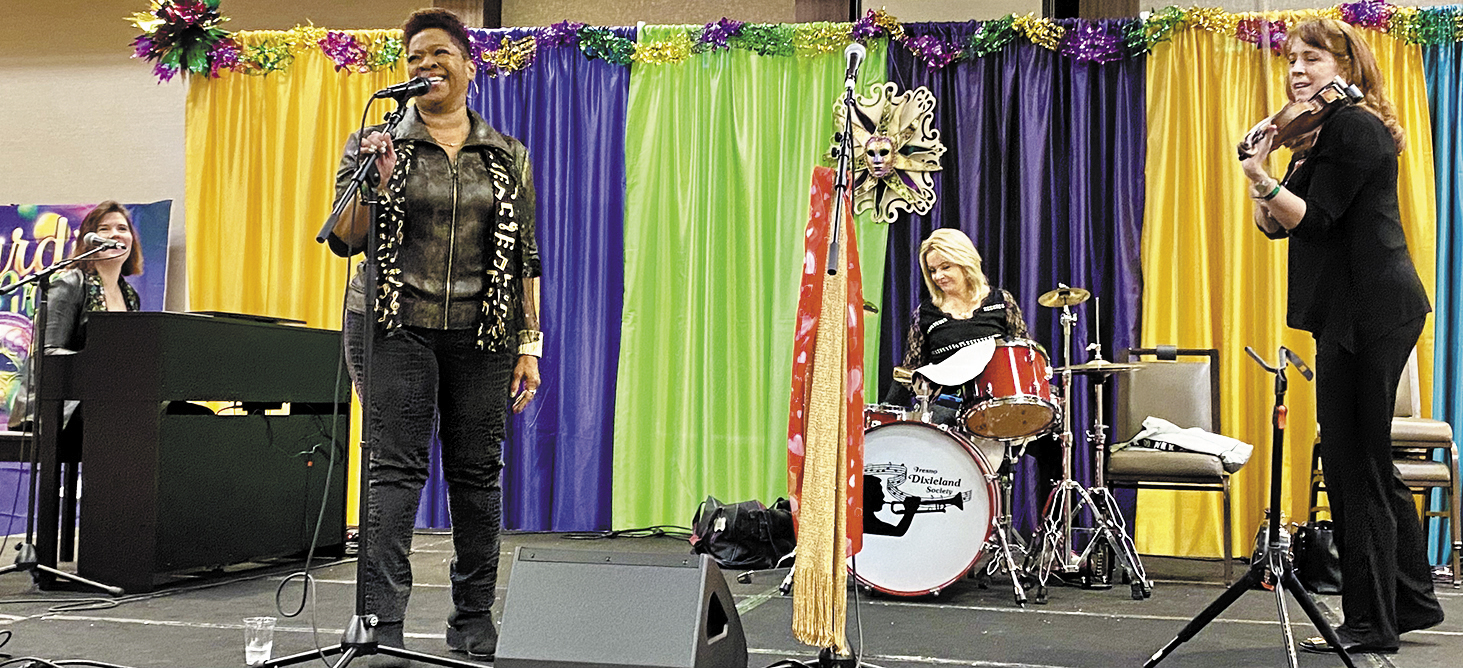 Helen Daley
The 34th Annual Arizona Classic Jazz Festival is happening Nov. 2 to Nov. 5 at the Crowne Plaza Phoenix-Chandler Golf Resort in downtown Chandler. Badges are available at the door: All Event $140, Thursday $25, Friday $55, Saturday $65, Sunday $50. The music starts at 5:30 p.m. on Thursday and ends at 5:10 p.m. on Sunday. There are four venues from which to choose.
One of the highly anticipated bands is Brass Nickel Jazz Band. The Brass Nickels transformed from the Wooden Nickel Jass Band (one of the most popular traditional bands in the 1990s) and then the Pub Crawlers. They now consider themselves older and wiser but still have infectious power, energy, and enthusiasm that shows in the music they love to play. The band is comprised of Bob Williams, trombone/vocals; Dave Johnson, trumpet/vocals; Otis Mourning, reeds; Bonnie Otto, piano; Alan Parks, bass/tuba; Brian Simpson, drums; and vocalist Jan Sutherland.
The other bands are top-notch performers: Cheryl's Vintage Jazz, Groovus, Holland-Coots Jazz Quintet, Queen City Jazz Band, St. Louis Stompers, Sentimental Breeze, Something Doin', Stephanie Trick & Paolo Alderighi, Sun City Stomperz, Tom Rigney & Flambeau, We 3 + 1 (Lansford, Patrick, Pease, and Early), Wildcat Jazz Band, and Wolverine Jazz Band. Internationally acclaimed jazz guitarist/banjoist Howard Alden will play with many of the bands. The Grand Finale will be performed by Sandra Bassett's group as she presents her Motown Experience.
The theme for special educational sets is Come Swing with Me:
Cheryl's Vintage Jazz, Bob Wills (Western Swing); Holland-Coots Quintet, Fats Waller; Queen City, Swing: Early Dance Band Arrangers; St. Louis Stompers, Neolithic Swing; Sentimental Breeze, Swing through World War II; Stephanie & Paolo, Erroll Garner; Sun City Stomperz, Songs Introduced 1923 to 1924; We 3 + 1, Swing from 1930s to 1950s; Wildcat, It Don't Mean a Thing (If It Ain't Got that Swing); Wolverine, Swing in all Styles.
The Arizona Classic Jazz Society/Festival is supported by the Arizona Commission on the Arts, an agency of the State of Arizona. ACJS/F was awarded $12,000 this year. The motto of the ACA is "We imagine an Arizona where everyone can participate in and experience the arts." Come to this event and experience the exciting music from a century ago.
You can find more details about the bands and the playing schedule at www.azclassicjazz.org.