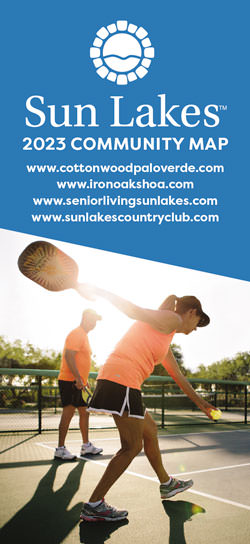 Published annually and delivered with the Source Book, the community map contains a wealth of information for residents and visitors alike. On one side of the map, the entire layout of the community is shown with a street diagram, walking trails, clubhouse locations, golf course layout, creative art centers, private and public manned entrance gates, fire stations, and business centers.
On the other side of the community map is an extensive city/county metropolitan area map, featuring the existing freeway/expressway system along with routes that are currently under construction and in long range future planning. The light rail system is highlighted along with major commercial airports and various lakes and mountain preserves that surround the area.
Residents may request one additional map, free of charge, by phoning 480-895-4287. Copies are available for pickup only from the Robson Publishing office at 9666 E. Riggs Rd., Ste. 135. Additional copies will be $2.50 each, cash only. Business may also purchase maps in quantities of ten, with an option to pay by credit card.
|   | Business | Phone Number |
| --- | --- | --- |
| | Cardiac Arrhythmia Institute | 480-889-1573 |
| | Christian Brothers | 480-634-1443 |
| | Ellsworth Home Services | 480-593-2265 |
| | Iconic Garage Door Services | 480-568-6518 |
| | Orbitel Communications | 800-998-8084 |
| | Re/Max Alliance Group - Sarah Anderson | 602-576-9043 |
| | Robson Reserve at Sun Lakes | 480-883-2000 |
| | Springfield Golf Resort | 480-895-0916 |
| | State Farm Insurance - Debbie Wiltse, Agent | 480-792-9468 |
| | Stone Creek Furniture Factory | 602-458-9800 |
| | Sun Lakes Pest Control | 480-895-8234 |
| | Sun Lakes RV & Mini Storage | 480-895-0791 |
| | The Kolb Team - KW Integrity First Realty | 480-809-5759 |
| | The Redeemed Team | 480-781-4028 |
| | Young Home Team - EXP Realty | 480-802-3857 |