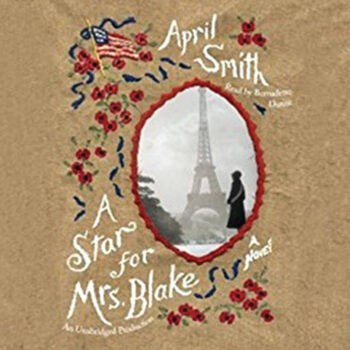 Violetta Armour
A Star for Mrs. Blake is the fictional account of five mothers who lost their sons in World War I, based on historical events and two actual people in history.
In World War I, there were more than 30,000 Americans buried in the U.S. cemeteries in Europe. In 1929 Congress passed legislation to fund travel for widows and mothers of fallen soldiers to visit their loved ones' graves in France.
The opening lines caught my attention immediately. "Cora Blake was certainly not planning on going to Paris that spring. Or ever in her lifetime. She was the librarian in a small town on the tip of an island off the coast of Maine."
The moment Cora read the letter inviting her to make the pilgrimage, she felt deep kinship with thousands of women she'd never met. They had all replaced the blue star in their window, symbolizing hope and pride for their son's service, with one of gold. Gold meant sacrifice to the cause of liberty and freedom.
Cora was designated to be the leader of her group of American mothers consisting of Katie, an Irish maid; Minnie, the wife of an immigrant Jewish chicken farmer; Bobbie, a wealthy socialite; Wilhelmina, a former tennis star whose mental health is precarious; and Mrs. Selma Russell, the only black lady among three busloads of the Gold Star mothers.
In spite of the somber task they were undertaking, the author injects a lot of humor as they begin their adventure. They are treated royally, both in Boston and New York City, before their departure. There is, however, much confusion, as one of the mothers gets lost in New York. They are rushed from one dizzying site to another—the Empire State Building, Broadway, Central Park Zoo, Fifth Avenue, Grant's Tomb, accompanied by their liaison, Lieutenant Hammond, a handsome, 23-year-old recent West Point graduate, and Nurse Lily. They finally debark in Paris where they are treated as celebrities.
We now meet two American journalists in the story, Clancy Hayes and Griffin Reed.
Reed, having a severe face disfigurement, wears a mask created by Florence Dean Powell, a character based on the real-life Anna Coleman Ladd. Ladd was a Boston socialite and sculptor who set up a studio in Paris, sculpting new faces for those who had lost a piece of their own in trench warfare. There is much historical data intertwined in this story.
Author April Smith says the story was inspired by the diary of the real Colonel Thomas Hammond, also a West Point grad, who accompanied actual mothers to Paris.
This is an excellent book discussion group choice with many facets to discuss. I agree with author Nelson DeMille who says, "Everyone who has served or is serving should read this book." I would add … every American … to gain a greater appreciation of our history and the sacrifices made for the precious freedoms we enjoy today.
Reviewer Violetta Armour, a Sun Lakes resident, is a former bookstore owner in Ahwatukee and author of five novels. You can read more of her reviews on her blog at serendipity-reflections.blogspot.com.