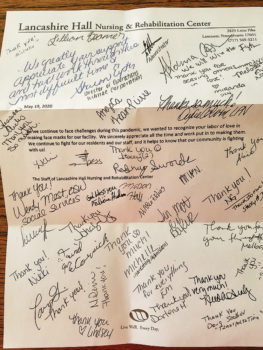 Judy Gahide
So many in our fabulous community of Sun Lakes have selflessly given their talent and time to helping those in need during the ongoing pandemic. We applaud and thank everyone.
A note of appreciation was sent to Lois Newman and her sewing team of Janice Golden, Janice's sister Jessie, Carmella Davin, and Judy Gahide. Lois' sister is a resident at the Lancashire Hall Nursing & Rehabilitation Center in Lancaster, Pa. In late May, several of their residents were diagnosed with COVID-19, so the National Guard was tasked to test all 168 residents and did so over a two-day period. Sadly, 98 tested positive, including her sister. Lois knew there was a huge need for masks for the residents, so these ladies made enough masks over the Memorial Day weekend for all the residents.
Praying our efforts make a difference in their health and well-being.