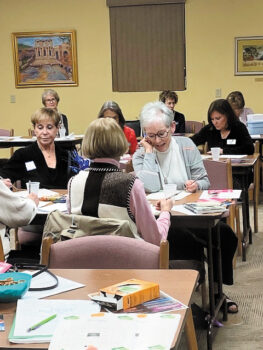 JoAnn Greenzweig
Our January AAUW general meeting featured Kimberly Duvall who has taught informal science education for over 15 years. She taught mostly in zoos and aquariums before working at the Arizona Science Center (ASC) in 2021. Her current role at ASC is Girls in STEM (Science, Technology, Engineering, and Math) coordinator where she plans and facilitates STEM  programs. Kim discussed the ASC's programs, focusing on STEM programs for girls 4th through 8th grade. There are a variety of programs and events. For details, check out their website azscience.org.
Our group enjoyed playing a little financial awareness bingo. Kim explained that, besides bingo, girls participate in robot programming and group problem solving exercises. In March the ASC will be hosting a STEM careers program featuring Dr. Jessie Rach, a local biologist. The evening was informative and fun!
AAUW is a national organization dedicated to advancing equity for women and girls through advocacy, philanthropy, and research. There are more than 170,000 members across 1,000 local branches. The Southeast Valley Branch of AAUW, which serves Chandler, Gilbert, and Sun Lakes, was chartered in 1989.
Ready to make a difference, meet other accomplished women, and have fun together? Join AAUW to be a part of change in the making. Email [email protected]. We look forward to hearing from you!