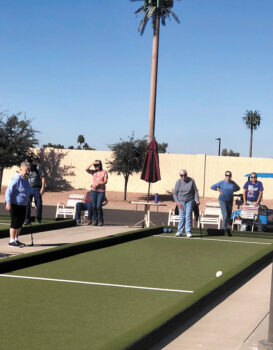 Kathy Mlynarczyk, Publicity
March is our last month of league play for the second session, with a friendly reminder to complete games and record W/L by March 19. This will be a busy month with games, celebrations, and awards.
Noteworthy news: Please mark your calendars. The Sisk Bocce Club is holding its annual Fun with Friends Tournament (formally called Low Hanging Fruit) on Thursday, March 23, at 4:30 p.m. If you belong to the Sisk Bocce Club and yearn for some relaxing laughs on the courts, register by calling Sue Donavon at 248-535-5285. The cost to enter is $5, plus a snack to share and a beverage of your choice. Nominal prizes will be awarded. There are only a few spots left, and you will not want to miss this fun!
One more reminder: The season-ending Bocce Potluck will take place on March 26 at 1 p.m. at Sisk Park. Club members are encouraged to bring an extra chair, along with a dish to pass. There will be a sign-up sheet posted on the bulletin board in the ramada ahead of time.
Thinking ahead, we also want to remind all residents interested in the Sun Lakes Bocce Club 2023-24 season that the club will continue to provide bocce instructions and guidance throughout most of the spring and summer months. For those interested in learning to play the game, forward an email to [email protected], attention Mike Buscaglia, to request instruction.
Any Sun Lakes resident can learn more about our club, with updated information, by visiting our club website, www.sunlakesbocceclub.com.
It's a busy month. Let's have fun and enjoy!