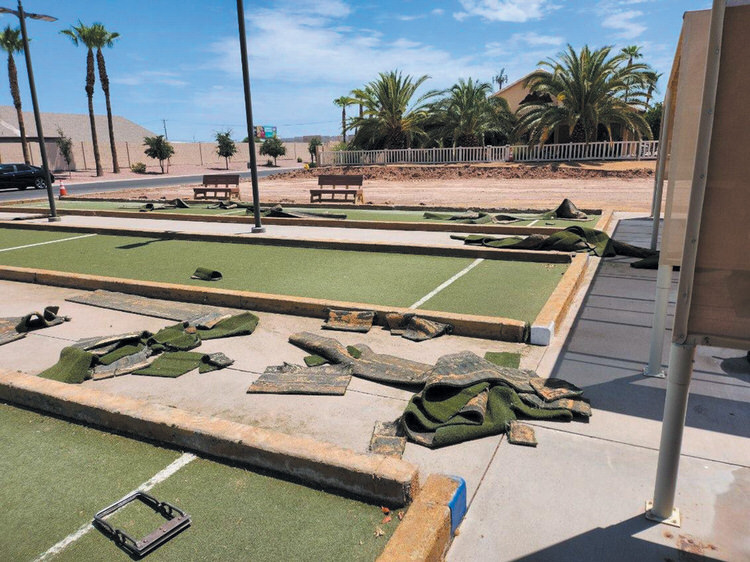 John Terranova, President, Sun Lakes Bocce Club
To the unaware, anyone driving past the bocce courts would wonder what was going on. It would appear a cyclone devastated the entire area! But, no, it is the CWPV Homeowners Association and contractors in action with the long-overdue renovations of the bocce courts and the establishment of the multi-purpose area to be used for, among other things, the sought-after dedicated cornhole gaming area. The grass will be replaced throughout the entire multi-purpose area, with artificial turf and lights installed. The bocce courts will also receive updated lighting. Thank you, CWPV Homeowners Association!
With that said, registration for the 2023-24 season will begin on Sept. 1 online at our club's website, www.sunlakesbocceclub.com. Those interested can complete a registration form and pay the $25 registration fee, which covers the cost for a two-person team for both the first and second sessions.
We will also be present again this year at the Cottonwood Palo Verde HOA Community Day Open House in the San Tan Ballroom on Saturday, Oct. 7, from 8 a.m. until noon, to answer any questions regarding membership in the Sun Lakes Bocce Club.
The first session begins with our annual "Wine and Cheese" Kick-Off Event on Oct. 29. Divisional competitive play will begin the following day, Oct. 30, and run through Jan. 7, 2024, followed by our Potluck Awards Banquet on Jan. 14. The second session kicks off on Jan. 15, and concludes on March 17, followed by our second session Potluck Awards Banquet to be held on March 24.
Our website also contains information about the club, including our By-Laws, Club Play: How it Works, and the Rules of the Game.
As always, all new players to the game, or those who require it, can request instruction by our Training Committee by sending an email to the attention of the membership director at [email protected].