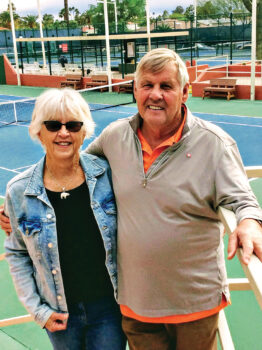 Penny Petersen
Rae and Bob Lewis have been regular Canadian snowbirds in Sun Lakes for 24 years. They call Arizona "home" for five months. The rest of the year, they reside and farm in Imperial, Saskatchewan.
How they found Sun Lakes is a riot. They had been renting and had thought about buying, but never did. Rae was flying to Arizona. Bob had already driven there. On the plane, she met a couple from Prince Albert who told her they had a house for sale in Sun Lakes, Ariz. They bought that house. Bob describes it as, "the most expensive plane ride he ever paid for." They came to get out of the cold and play golf, heard about Don Neu's free tennis lessons, and got hooked on tennis. Later, they assisted Don for five years.
Bob and Rae grew up in the same little town, and when they say "little," they mean slightly more than 300 residents. They have been together for 57 years. They have three sons (Shaun, Trevor, Daryl) and one daughter (Angela). Bob taught school for nine years, then began grain farming full-time. Rae was a homemaker, which for a farming family means a lot more work than shuttling kids and keeping a house. They run a large grain farm in Imperial. They also did what is called "Custom Harvesting" which means they took combines to Oklahoma and Texas which harvest prior to their harvest in Canada. They had to deal with crossing the border several times while following the harvest. Then they returned to Imperial with reams of paperwork, plus the harvest on their own farm. While traveling, they had an Airstream crew trailer. Rae cooked for everybody. Recently, they have begun to turn over management of the farm to sons Trevor and Daryl. Their daughter Angela is a parole officer in Brisbane, Australia. Shaun spent 20 years with the Canadian Forces, then served with the Winnipeg Police Force for 14 years.
Since 1997, Bob and Rae have been fixtures on the Cottonwood courts. Both are rated in the Red category, the highest level. They've been playing in tournaments for 20-plus years and have won three Mixed with many second and thirds. They treasure the art of Jim Dittman given to winners. In addition, Bob won three Gender Doubles with John Bodensteiner, Gordon Markham, and Roger Diddock. He also won three singles. Rae won three Gender tournaments, one with Jane Cornell, two with Pat Davidson. She won six Singles. Bob also served as tournament director for a while.
When asked what they enjoy doing besides tennis, both agreed that golf, pickleball, and bridge were their favorites. Travel has included a guided trip to Italy; six trips to Punta Mita, Mexico; and Australia, where their daughter lives.
Their flight home was canceled on them, so they're flying north and walking across the border, a first for them.
For information regarding membership in CTC, contact Barb Jorgensen at [email protected].