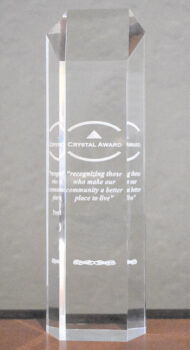 The recipients of this year's prestigious honor of a Crystal Award for community volunteers have been notified. Thanks to all of those who nominated a deserving volunteer. Look for the honorees' pictures in the February Splash.
The gala banquet to celebrate this year's nominees will be held at Oakwood in the evening of March 12. Friends and relatives of this year's recipients and previous honorees are encouraged to attend. Tickets will be sold at the Oakwood clubhouse beginning Jan. 30. The cost is $30 per person, and tickets must be purchased with cash or check.
Sun Lakes is a wonderful place to live, and much of this is because of all the wonderful volunteers. Come out to celebrate those special volunteers who are being honored this year.