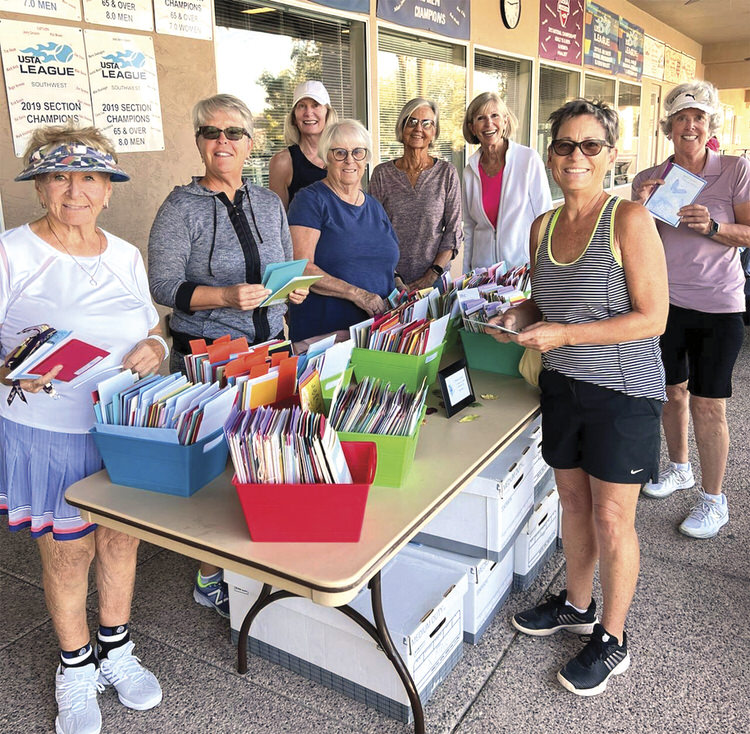 The IronOaks Tennis Club hosted its Second Annual Crystal Card Sale on the patio at the Wellness Center in October. A special thanks to Judy Gahide and Lois Newman who organized and hosted the event. Thanks to the tennis players, pickleball players, and Wellness Center members for participating. It was a grand success. All proceeds from sales are donated to My Sister's Place, an organization providing shelter and support to families of domestic violence.
Holidays are a difficult time for families at My Sister's Place, so we are again collecting gifts, toys, gift cards, etc., to brighten their lives. Anyone interested in donating can find gift ideas on our website, www.thecrystalcardproject.org. Items can be dropped off at 9502 E. Sundune Drive in Oakwood. There will be a box near the front door. Donations must be received by Friday, Dec. 16.
There will be no workshop in December due to the holidays. The next workshop will be Wednesday, Jan. 25, 2023, in the Ceramics Room at Cottonwood.
Crystal Cards will be on sale in December at three Sun Lakes locations:
* Wednesday, Dec. 7, at the Women's Coffee from 10 a.m. to noon, in the Cottonwood San Tan Ballroom
* Wednesday, Dec. 14, from 9 a.m. to 2 p.m. in the Bradford Room in the Oakwood clubhouse
* Thursday, Dec. 15, from 3 to 5 p.m. in the Sun Lakes Country Club clubhouse lobby