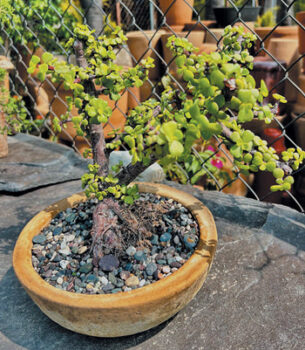 Dannette Hunnel
I bet this title caught your eye, huh?
It's September, and most of us have grown weary of the heat. Some flower gardeners are at a loss. But the desert is a wondrous place and, believe it or not, still provides plants that will stay green and blooming, even in a hot, dry September.
The Elephant Food, also known as Portulacaria Afra, Elephant Bush, and/or Dwarf Jade, is a unique perennial that can be grown in-ground or in pots. It stands up to our heat.
I once left for the four hot summer months, and other than the sparse showers of monsoon season, it went without water. The woody stems became dehydrated, soft, and limp, but with a good trimming and an abundance of water, it came back to life, becoming healthy, plump, and green by the end of September.
Classified as an ornamental plant, Elephant Food gives color to any yard with odd, reddish stems and occasional tiny lavender flowers. The leaves are thick, green, and rounded. It's very easy to care for and will grow or climb up to four feet tall and four feet wide. This versatile plant is accustomed to the arid, sunny environment and is drought and fire resistant. The plant can be shaped to grow straight upright or rounded, or it can be left to grow askew. Elephant Food is an excellent choice for the beginner bonsai enthusiast, too.
Originally from South Africa, the leaves are edible and commonly added to soups or salads, and it's a favorite snack of elephants, cattle, and goats, hence, the popular odd name. There is no soil amendment needed for this plant, and it blends well with other drought-tolerant succulents in a pot or garden. It is known to last up to seven years as an indoor or outdoor plant.
Elephant Food attracts urban pests like rabbits if kept too moist and can develop root rot as well, so best to let dry completely between watering. Lastly, don't think it's too late in the year for a summer plant, because, just like us Arizonans, this plant will be bright and perky during the well-deserved and pleasant winter months. Just remember to cover the plant if a deep, continuous frost occurs in winter. The symbolism of this plant is Tenacity and the Will to Survive. I think, by mid-September, that sort of sums it all up for us desert dwellers, too.