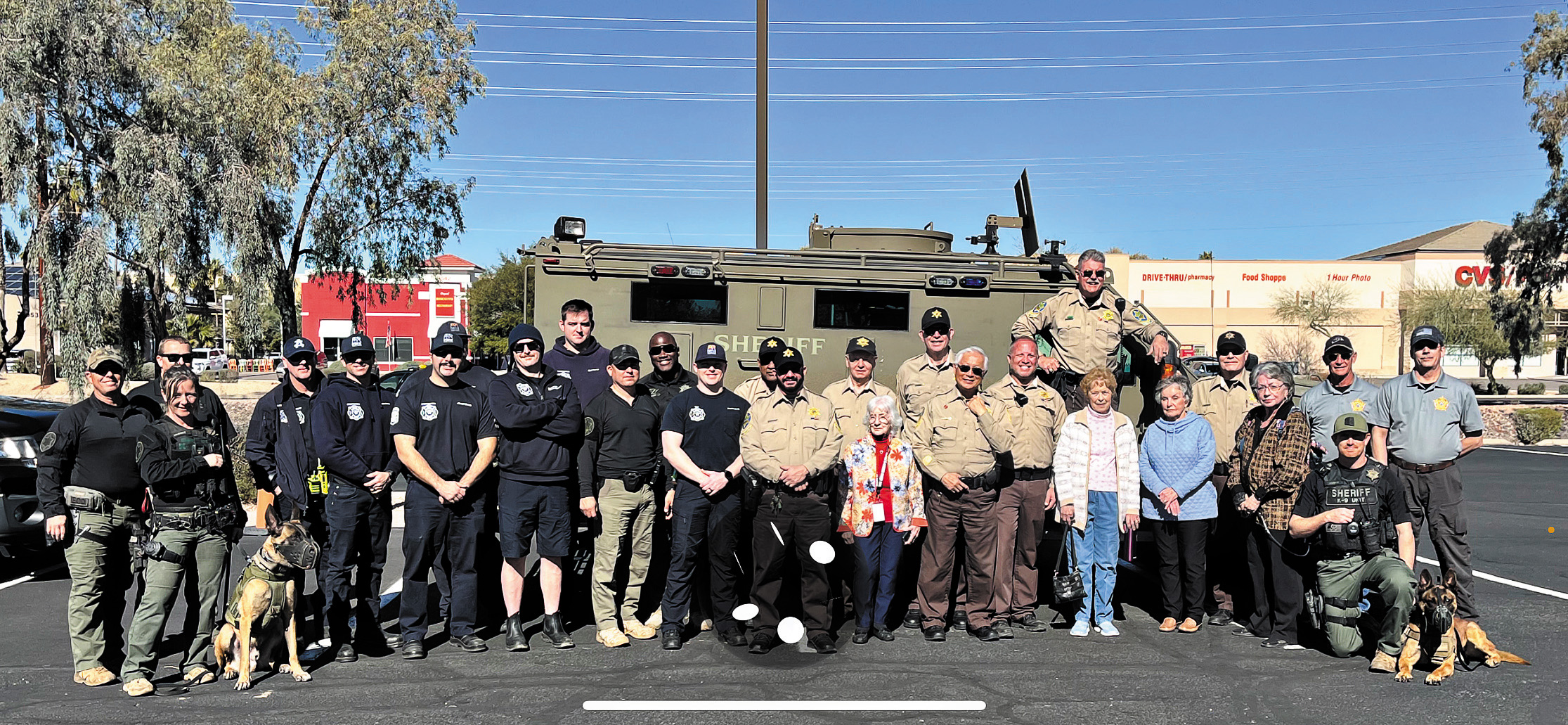 Craig Lloyd, P05474, Commander MCSO-SLSP
The Sun Lakes Posse hosted the Maricopa County Sheriff's Office (MCSO) specialty units again, along with AZ Fire and Medical, for a great outdoor, family fun, informational event on Jan. 28. We greeted over 500 visitors and went through nearly 500 free hot dogs, provided by the business partners of Arizona's Heroes Home Team.
The MCSO Search and Rescue team had members on board the new $12 million helicopter when the deputy pilots landed in the parking lot after working a call prior to the event.
The Lakes division brought one of the patrol horses that was recently used in the security perimeter during the vice president's visit to Tonopah.
The K-9 division had two of the special-use canines providing demonstrations of how they work alongside the bomb squad and the SWAT team on-site at the event.
The large MCSO command van was also a big draw for people to climb into and see all the technology inside.
AZ Fire and Medical brought fire trucks and ambulances with public information members present to assist with individuals climbing in and out of the trucks whilst showing off the special equipment they use every day to save lives.
A big shout-out to our Sun Lakes Posse Medical Equipment crew, along with all the members from both the community Posse and the MCSO Sheriff's Posse on scene for the event, to show our community the patrol units and the facility we use to serve our community seven days a week.
Special thanks to the Arizona's Heroes Home Team sponsors: Amy Nelson (Keller Williams Realty), Lisa Estes (VIP Mortgage), Romy Watts (Magnus Title), Vicki Paez (Edward Jones), and Craig Lloyd (American Family Insurance) for providing and cooking the free hot dogs at our event.
Mark your calendar for next year's Open House on Jan. 27, 2024.
Look for your Sun Lakes Posse, along with Arizona's Heroes Home Team, at The Sun Lakes Lions club to host the Semi-Annual DEA drug take back and the document shred event coming up on April 22 at Alma School Road and Riggs Road (northeast corner). Details to follow.