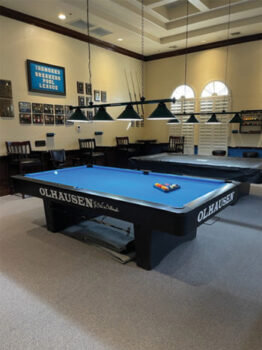 Judy Wolthausen, President
The IronOaks Ladies Billiards Club has an annual tradition the first Tuesday in December that is always a hit! We all show up in Christmas casual attire and participate in a contest to see which of us can pocket the most balls in two minutes. The number of each ball that makes it into a pocket is added up, and the person with the highest score wins a very nice prize. Then after playing a few games of 8-Ball or 9-Ball, we head over to a nice restaurant to have a Christmas lunch together.
We are a fun-loving group, some of whom recently joined the group, others who have played with us for over 20 years, and many others in between. We also vary in our pool playing prowess from novices to some who are pretty darn good! We play every Tuesday morning year-round with practice at 9:15 a.m., and play from 9:30 to 11 a.m. Our official season runs October through the end of April when many travel to avoid our warmest months. We continue unofficially playing during the summer.
Ladies residing in the Sun Lakes gated communities of Cottonwood, Sun Lakes Country Club, Ironwood, Oakwood, and Palo Verde are all eligible to join our group.
At this time, we're trying to fill our last four remaining slots so that all four of our Olhausen pool tables can be filled each week. So, we'd like to add your name to our club list! The tables are state of the art and in excellent condition. The Oakwood Country Club houses our Billiards Room at the left end as you face the building.
So, if you've ever played pool and enjoyed it, now is the time to join in and have some fun! We're small enough that you really get to know each other quickly and become friends. Immediately, you have people to ask about who their painter is, who fixes their watering system, who they use as their handyman, ask if they like their TV vendor or their Internet vendor, who washes their windows, or whether they like their landscaper. You would have friends to ask to join you at a movie or musical or just to talk. Some of us join because we like the competition. Others revel in the comradery, but all of us are really just interested in having some good, clean fun. And in the process, all of us get a little better playing pool, too!
So, give me a buzz and let me know you're interested in checking us out. If you're a little concerned about how long it's been since you last played, we'd be happy to set up a couple practice sessions at a time convenient for you. It's like getting on a bicycle after years of not riding—everything comes back very quickly.
We'd love to have you join us and also enjoy our Christmas tradition with us! Please give me a call at 630-728-5937 and we can talk about it.