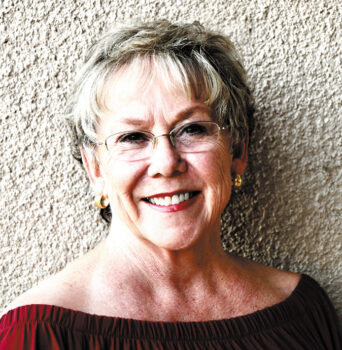 You may recall seeing Kate on stage in one of the three plays she's been in during the last two and a half years. Or you may have seen her in a performance of The ImproVables. Since arriving in Sun Lakes in September of 2020, Kate jumped right into Sun Lakes Community Theatre (SLCT) activities. It's not surprising, since her education and years of her career were spent in both theater and non-profit management.
Born in Colorado but transplanted to California during her childhood, Kate attended school in Fullerton, focusing on theater arts and eventually obtaining her certification in Non-Profit Organizational Management from SDSU. During most of those years, she performed in community theaters in Oceanside, Fallbrook, Carlsbad, and San Diego. Her day jobs were fundraising for a major medical center and a semi-professional theater in Solana Beach. She then became the CEO of a chamber of commerce. In 1999 she left Southern California to become the CEO of the Napa Chamber of Commerce, where she stayed until 2009 when she retired. She and her husband moved to a small rural East Texas town and bought 14 acres of land filled with pine trees, a pond, two barns, and two pastures. They proceeded to raise chickens and goats and became involved in studying for the ministry. Together, they pastored a small church until her husband passed away in November of 2019. They had been married nearly 20 years.
Five weeks later, Kate was diagnosed with breast cancer. She decided to visit her stepson in Chandler to tell him and then continue on to Napa to spend Christmas with her daughter and sister and share her news. When she arrived at her stepson's, he casually said, "I hope you don't mind, but I've invited my biological mother to meet you. I think the two of you would get along." Well, his mother Maria (Kate's deceased husband's former wife) arrived and announced she was a "hugger." They hugged, sat down, and began talking. From that moment on, they became best friends. In May, Maria went to visit Kate in Texas, staying several days. Then in July, Kate came out to stay with Maria in Prescott on a vacation. By the time she was ready to leave, they had made the decision that Kate would sell her property in Texas, come live with Maria, and become a resident of Sun Lakes. After arriving, they went to an SLCT performance, and Kate knew she had found the thing she loved most—community theater. She immediately joined SLCT, and it wasn't long before she was taking workshops, attending shows, auditioning, performing, and eventually attending board meetings via Zoom. Soon she was appointed to fulfill a resigning director's term. "I love being involved with SLCT," said Kate. "I get to be back in community theater, my first love, and I get to use my organizational management skills to help provide leadership. It's my dream come true!" We're certainly glad she decided to settle in Sun Lakes!