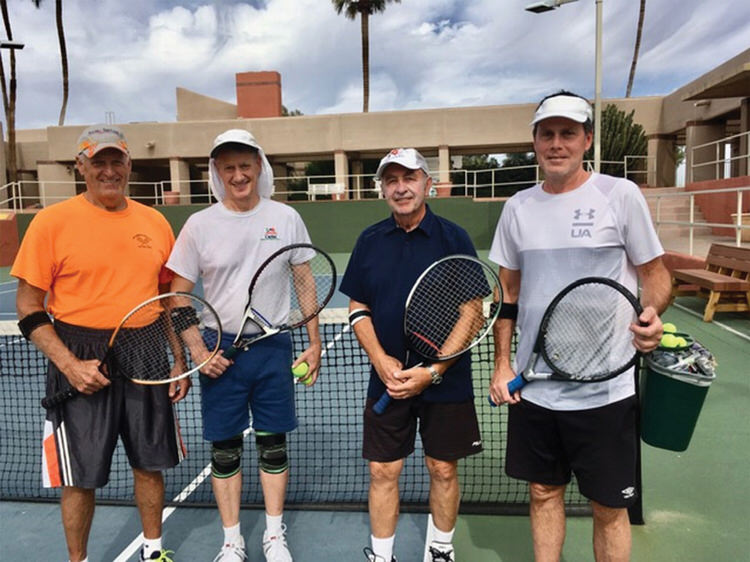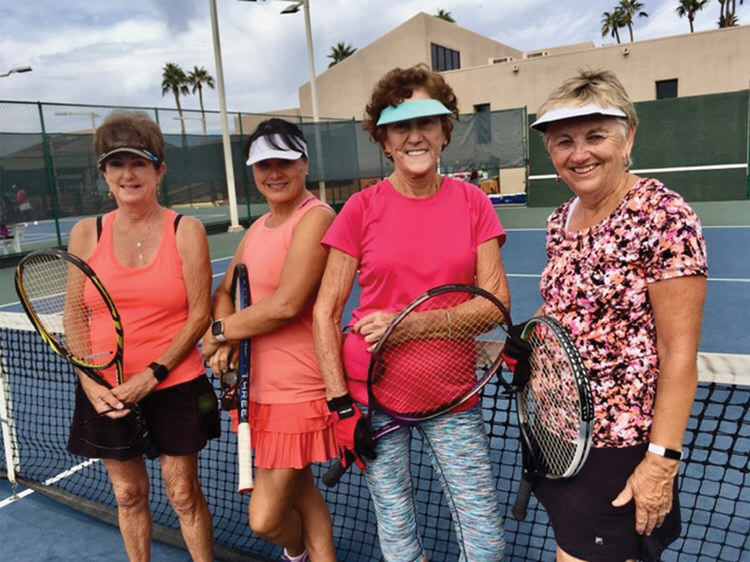 Penny Petersen
It's time to start thinking and planning for the upcoming competitive season offered by Cottonwood Tennis Club (CTC). There's something for everyone and lots of opportunities for members to enjoy, including tournaments and social events. Become a CTC member and you'll have plenty to do all season long. The following activities require membership in Cottonwood Tennis Club.
The first fall event is the Rainbow Classic, which takes place Oct. 21 and 22 at the Cottonwood courts. It is designed to be colorful as well as fun.
On Oct. 29, CTC will host SunBird and Sun Lakes Country Club in the first Social of the year. A Social is a competition between tennis organizations and is designed to meet new people and have friendly competition. There are no prizes, but usually a good lunch and lots of new tennis players to meet.
Nov. 10 is the Welcome Back Social held at the tennis patio. This includes food, camaraderie, and some fun tennis matches.
Later in November (Nov. 6 through Nov. 12) is the Ken Bradshaw/Don Neu Memorial Tournament. It is open to all the local tennis clubs. Ken Bradshaw started CTC and served as president for some time. Don Neu was the CTC pro and taught the free classes. He was riding his bike on Robson Blvd. and was struck by a car. It seemed appropriate to name the tournament in their honor.
The Bradshaw/Neu Tournament is gender doubles only. Every day of the tournament there is a complimentary lunch. At the conclusion of the tournament, prizes are given for each level of play in both men's and women's doubles. It is the largest tournament of the year. Most of the matches are held at the Cottonwood courts, but once in a while, there are a few at Palo Verde. There is a small fee charged, as this tournament gives all proceeds to local charities.
On Nov. 19, Cottonwood will host Leisure World for a Social. Later in the year, Cottonwood players journey to Leisure World for another Social. Leisure World is located in Mesa.
The next Social is Dec. 10 at Springfield, where competitors will be from Cottonwood, Springfield, SunBird, and Sun Lakes Country Club.
On Dec. 11, CTC will celebrate with a Christmas Dinner at the Cottonwood ballroom. There will be a live band and lots of photos of members taken next to the Christmas tree.
Jan. 8 through Jan. 14, 2023, will be the next tournament. It includes men's doubles and women's doubles at all levels. Other 2023 events include the Mixed Doubles Tournament, the Canada vs. U.S. Tournament, and an end-of-the-year Picnic at Sisk Park. In the spring, there are also four Socials.
The Thursday night drop-in tennis is now open to anyone. Good news!
For information on joining Cottonwood Tennis Club, contact Susan Hood at [email protected].