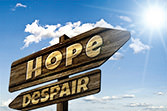 Pastor David Holling
You've made it through the holidays, perhaps well or maybe not so well. Now you are facing the new year, and your loved one is still gone. What holiday cheer you were able to muster has once again turned to lonely days and nights, trying to find a new normal, and still more tears and sadness.
If you can identify with the above, then GriefShare may be for you. GriefShare is a nationally renowned program helping people through their grief journey towards healing and wholeness after the death of a loved one. The 13-week course includes a video, group discussion, and a workbook. We strive to create a safe and caring space for people to work on their grief.
A new GriefShare session begins Wednesday, Jan. 12, from 1:30 to 3 p.m. at Sun Lakes United Methodist Church, at 9248 E. Riggs Road (just west of Robson Library) in the Education Building on the north side of the property. Pre-registration is helpful (but not required) to have enough materials ($15) for each participant. To register or if you have questions, contact the church office at 480-895-8766.
Grief recovery is not simply feeling better. It is the ability to find joy in life again. It is to treasure the memory of loved ones, to miss them, and to live better because of the time in your life you spent with them. GriefShare is one way to accomplish this and more.