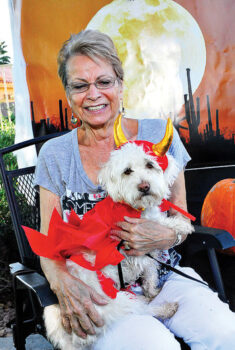 First and foremost, your bowl of candy should be for trick-or-treaters, not for your pets. While your favorite Halloween pumpkin and decorative corn are relatively nontoxic, if ingested, they can cause gastrointestinal upset. If the piece eaten is too large, blockage could occur. So, keep an eye on your favorite candy bowl and decorations. Here are some other things to remember on Goblins Night:
1) Halloween candy can be toxic. Do not let your pet eat Halloween candy. Chocolate is toxic, and tin foil and cellophane wrappers can be hazardous if swallowed. Some candies contain the artificial sweetener xylitol which is poisonous to pets, even in small amounts, and can be deadly. Seal your child's stash and keep out of reach.
2) Be careful with candles near your pet! Sometimes an excited wagging tail can knock over a candle-lit pumpkin, leading to a fire. Consider using flameless candles to light up your jack-o-lantern.
3) Wires and cords could harm your pet or trip you. Remember to keep wires and cords from electric lights and other decorations out of reach of your pets. Chewing on cords could cause cuts, burns, or possibly life-threatening electrical shock.
4) Door bells can be scary for your pet. All but the most social pet should be kept away from the front door during peak trick-or-treat hours. All those strangers repeatedly ringing the bell can be very scary and stressful. The costumes do not help with the stress, and this holiday is right up there with the Fourth of July on the stress meter.
5) Dressing your pet for Halloween: If you dress up your pet, make sure the costume isn't annoying, unsafe, or that your pet is not allergic to the materials.
6) Keep your pet's ID on! Sometimes accidents happen, and while you are frequently opening the door for trick-or-treaters, your puppy or kitty may make a run for it. The proper identification can be a lifesaver. Always, always make sure your pet has proper identification in case they escape out the door.
Please keep these things in mind and have a safe and scary Halloween. If you do suspect your pet has ingested a potentially dangerous substance, immediately call your vet, ASPCA Animal Poison Control Center at 888-426-4435, or Arizona Veterinary Medical Association at 800-213-6680.
Rover's Rest Stop Kids will be in the Cottonwood Dance Room on Saturday, Oct. 9, from 9 a.m. to noon. We are working on something fun to do. Keep watching for details so you can join in! We love to see our adopted kids, so stop by to say Hello! Don't forget to join the Rover's Kids in November! Nov. 6 is the 5th Annual Fun Walk; Nov. 10 is the Women's Coffee/Fashion Show; and Nov. 13 is Rover's Rest Stop Meet & Greet! If you have any questions, call 480-600-2828.