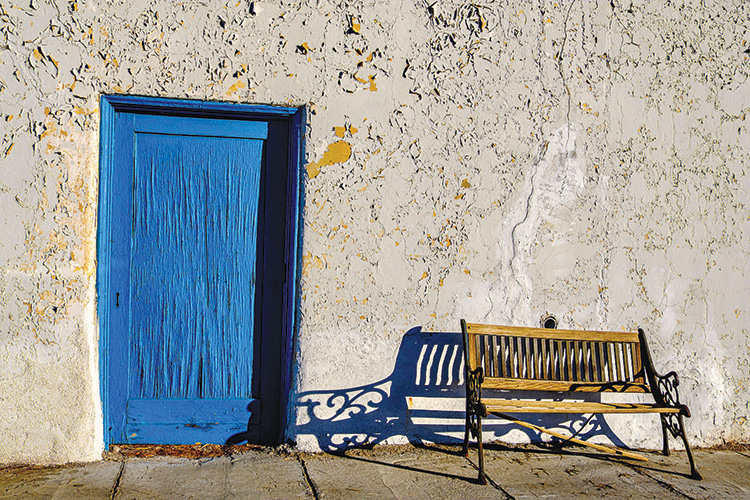 Ann Posiviata
"Old and Blue" was taken at the Amargosa Opera House and Hotel in Death Valley Junction. It is a historic building built in 1923 and is still operational today. Just like this good country of ours, its peeling paint reveals gold beneath. Sun Lakes Camera Club member and webmaster Bob Little used his Fuji XT3 set at 1/1000 sec, f/9 and 38mm to create this beautiful image.
Members: Per our club president, all summer meetings and trips are canceled due to the current pandemic. Our board members will revisit the hopeful opportunity of resuming in the fall, as scheduled. Please take advantage of the Photographic Society of America workshops, classes, and mentoring. Reach out to member John Livoti for more information. Also, please take advantage of our club's Facebook page to share images, and connect with each other via our love of photography. Please reach out to our leaders to assist with the flag collection after the Fourth of July holiday. Stay safe, stay home, and stay well. We look forward to connecting again when it is safe to do so. If interested in becoming a part of our club and have a unique skill-set to offer, please reach out to our leaders at the numbers below.
The Sun Lakes Camera Club (SLCC) meets the first and third Thursdays from 6:30 to 8:30 p.m. in the Navajo Room of the Sun Lakes Country Club from October through April. During the summer, the club meets the first Thursday of each month in the Ceramics Room of the Cottonwood Country Club. For more information about the SLCC and its activities, contact SLCC President Lynn Thompson at 480-734-0040, Vice President Judy Daidone at 480-216-3062, or past President Jan Ballard at 602-621-3344 and visit our website at sunlakescameraclub.com.