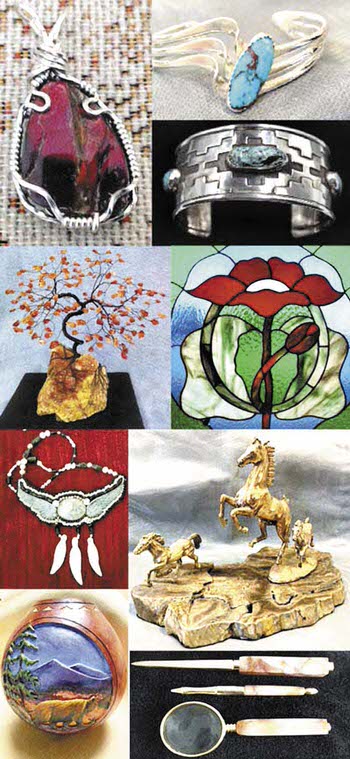 Yes, your best chance of getting the exact class you want is right now! The Sun Lakes Rock, Gem & Silver Club will feature 19 separate classes in the upcoming 2023-24 season. Join our nearly 200 current members, get creative, make new friends, and have fun with one of the largest clubs in Sun Lakes. Open to the public, the club's only requirement is that you have a resident mailing address in one of the HOAs in Sun Lakes, i.e., Sun Lakes Country Club, Cottonwood Palo Verde, Oakwood, or Ironwood.
Have you been wondering if you, too, could be having fun making great, creative stuff with your hands? Join the Rock Club and let our instructors teach you how easy it is! Sign up and take a class before all the snowbirds get back.
The annual membership fee is only $30, and after taking and passing any class, you'll have qualified for Open Shop access to four Craft Shops (purchasing an open shop stamp is required). We have two shops in Cottonwood, one in Oakwood, and one in Sun Lakes Country Club. Each shop is fully equipped with all the latest necessary tools.
Our first general meeting will be held on Oct. 23 at 10 a.m. in the Cottonwood Computer Learning Center Lecture Hall. We certainly have many happy ladies, but there are also a bunch of men (40) who have also discovered the creative fun of making cool things with their hands. We're expecting even more guys to sign up this year!
Find out more information by going online to slrgs.com. You'll find all the details about the classes you'll want to take, but here's a teaser:
Lost Wax: Hundreds of red wax designs are available for free, so you won't have to do designs yourself. You just pick the ones you want to make, and we pour the molten metal.
Silver: Learn to use all the tools and then solder silver into rings, bracelets, and pendants.
Lapidary: This is a very exciting and fun craft. You'll cut and polish semi-precious rocks into jewelry centerpieces.
Gourds: R U out of your gourd yet? You'll get inside it and love scraping, drying, and designing your very own "one of a kind" gourd art.
Stained Glass: The most beautiful colors will shine through your framed work of art. Enjoy this ancient craft with the latest tools in our brand-new Glass Studio at Cottonwood.
Dichroic Glass: Another extraordinary glass category combines the high heat of a kiln with the bright colors of glass.
Fused Glass: A final piece of gorgeous glass is formed by heating two pieces of glass together in a kiln. You'll fabricate plates, tiles, bowls, jewelry, and wall hangings.
Faceting: This is the process that makes a diamond sparkle. But you can facet many other semi-precious stones like amethyst, garnet, peridot, and topaz.
Beading: Both Freestyle and Loom beading classes are offered. All you need to do is buy your own beads.
Metal Clay: Available in silver, copper, and bronze, then rolled out, textured, molded into a piece, and embellished before firing in a kiln.
Wire Wrap: Make beautiful pieces of jewelry by wrapping silver or gold wire to create your own jewelry.