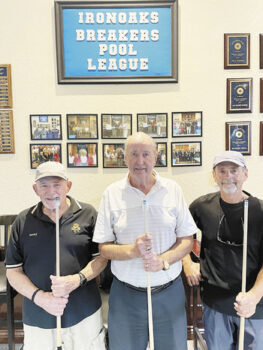 The IronOaks Breakers Pool League held another 8-Ball tournament, and the finals took place on April 19. Eighteen players vied for the top four spots, resulting in Jim Boyes, Sonny Williams, Joe Langley, and Don Lewis heading to the finals. Emerging in first place was Jim Boyes, followed by Sonny Williams in second place, Joe Langley in third place, and Don Lewis in fourth place. After the games, there was a drawing for two gift certificates to Stone & Barrel. Any player who participated in the tournament and wasn't in the finals was eligible to win. The lucky winners were Jack Cameron and Jerry Tuman.
The IronOaks Breakers Pool league meets Tuesdays, Thursdays, and Saturdays for play. All residents of IronOaks are eligible to join. Stop by and check out our beautiful room with four, nine-foot Olhausen tables. If you have questions or want more information, contact [email protected] or 480-620-3165.
Sign-up for the next tournament will start June 5, and it will be a Scotch Doubles tournament.