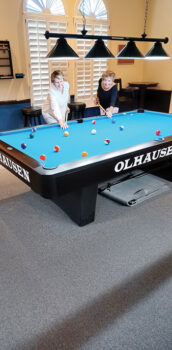 Judy Wolthausen
Ladies, it's hot outdoors! This is the perfect time of the year to leave those outdoor activities and come join us in our air-conditioned Pool/Billiards Room at the Oakwood Country Club. It is at the opposite end of the building from the ballroom.
Summer is a great time to join in during our informal play. It gives all of us a chance to practice our skills and to help each other when the need arises. If you haven't played pool before or just would like to refresh your skills, there are plenty of cues available for your use. In September, the league restarts as people return from cooler locations, and then you can decide whether pool is the sport for you and, hopefully, become a member in the fall.
Our meeting time is 9:15 to 11 a.m. every Tuesday throughout the year. If you would like any other information about our fun group, please contact Judy Wolthausen at 630-728-5937.