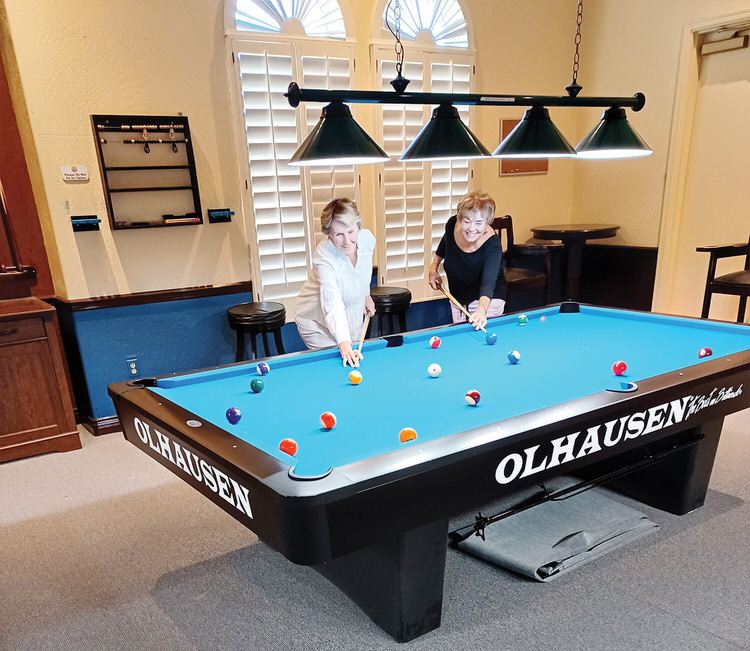 Judy Wolthausen, President
Ladies residing in the gated communities of Cottonwood, Sun Lakes Country Club, Ironwood, Oakwood, or Palo Verde are eligible to join our club.
During the summer, ladies who are full-year residents play informally (whoever can make it), while other members take off for a cooler climate. October is the month that we begin a new season of Ladies Billiards. We play 8-Ball, 9-Ball, and occasionally Cut-Throat as foursomes. We draw numbers to randomly select different foursomes and partners for each table each week. We have four Olhausen pool tables, which are in perfect condition, so we strive to add new members each year, up to a maximum of 16.
Have you played before and enjoyed it, but it's been a long time? Or do you feel you need some practice or need to relearn the rules to be comfortable? None of that is a problem—really. Don't have a cue stick? Well, there are lots to choose from for you to use. What you'll find is that, like not riding a bicycle for a long time, you give it a try, and it comes back like it was just yesterday!
We have members at all levels of ability in our club, and we do have practice sessions if you want to ask questions or get some of the cobwebs out of your system! We usually meet on a weeknight at 4 p.m., when we know the room will be completely available. Right now, we're practicing on Mondays at 4 p.m., but other days/times can be arranged if Mondays aren't good for you. As far as weekly play, we meet every Tuesday (except holidays) at 9:15 a.m. to warm up, and we play from 9:30 to 11 a.m. We really enjoy the camaraderie and ability to meet a whole new group of potential friends. On the first Tuesday of each month, we also follow pool with lunch together at a new or suggested restaurant as a group, which is always fun.
The Billiards Room is at the opposite end of the building from the ballroom at Oakwood Country Club. Practice sessions are certainly not required, so if you just want to come check us out, drop by on a Tuesday morning and play with us. Copies of the rules for 8-Ball, 9-Ball, and Cut-Throat, along with the team's bylaws, will be given to you. If you have questions or just want to let me know you're interested, feel free to call. We're a fun-loving group, and we'd love to see you!
By the way, if you're a new resident, don't miss the annual IronOaks Activities Open House on Saturday, Oct. 29, from 9 a.m. until noon in the Oakwood Country Club ballroom. We'll be there, just inside the main entrance to the ballroom at table 15 representing our club.