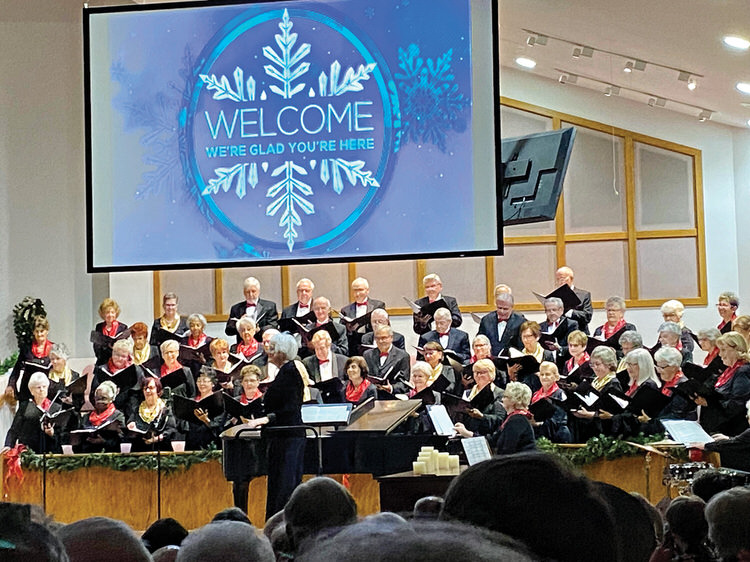 Yvonne Orlich, Sun Lakes Chorale
It is! And the Sun Lakes Chorale got into the season. We practiced once a week for months to finetune our 2022 Holiday Concert. And we think it was a great success. To look out at the full-house audience was so gratifying. The audience was very receptive and appreciative and, in turn, we are appreciative of your support.
After a brief introduction and welcome by our president, Jeanette Cline, the chorale entered the sanctuary, filing down the four aisles while singing with the audience, "Once in Royal David's City." Once settled in the choir loft, the concert opened with "Festival Gloria," a rousing Latin carol praising the birth of Jesus.
We continued with a mix of jazzy renditions of some well-recognized carols, some traditional carols, and a lively rendition of a gospel-type number, "Children, Go Where I Send Thee," which had us all smiling as we enjoyed the gospel enthusiasm. Featured soloists in this number were Donna Nelson and Bart Evans. Gene Cline performed the solo in an old favorite, "I'll Be Home for Christmas." "This Time of Year," another favorite carol, was embellished with talented soloist Sally Holbert who regaled the audience, and us, with her excellent skat prowess. It was a real crowd pleaser. Wes Davis sang the solo for an Alfred Burt number, "Caroling, Caroling."
Other numbers included a "Brazilian Christmas Carol," "Mistletoe and Holly," and the final soft and pensive number, "While Shepherds Watched Their Flock by Night," with soloist Tenni Annen. To conclude, we returned to our traditional recessional, and while in the aisles again amidst our many guests, we sang "Shalom Chaverim." The members then filed into the vestibule to greet our audience guests, family members, and friends.
The Chorale is so fortunate to be under the direction of the talented Cris Temple-Evans and Cris' husband Bart Evans who warms us up each week with vocal exercises. And we can never say enough about our accompanists Caroline Brown on piano and organ and BJ Van Noy, percussionist. We hope all of you who attended enjoyed a brief respite from the chaos of our world, and were able to be taken away and comforted by our carols. It is always the goal of Chorale to give you some peace and maybe a smile with this very special Holiday Concert.
In January we begin work to present our Spring Concert in March of 2023. We wish you all a Happy New Year!