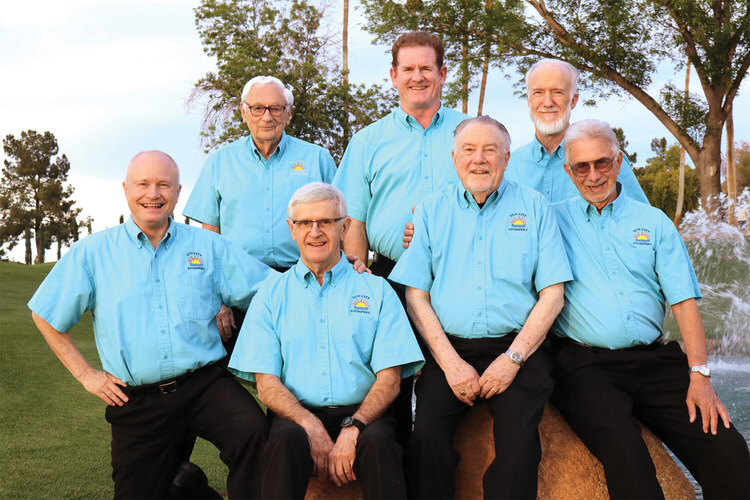 Helen Daley
The 2021-22 season for the Arizona Classic Jazz Society (ACJS) is about to start. Live music will be presented September through May, with a three and a half-day festival taking place Nov. 5 through 7. This was the only jazz festival taking place after March of last year. All the protocols for safety were followed, and everybody was kept healthy. These same protocols are followed for monthly events.
We are pleased to welcome the Sun City Stomperz on Sunday, Sept. 19, from 1 to 4 p.m. at the Crowne Plaza Phoenix-Chandler Golf Resort, One San Marcos Place, Chandler. The cost is $15 for ACJS members and $20 for non-members (become a new member and get in free on the 19th. Membership for a full 12 months is $35 per couple, $25 single). There are two dance floors. For more information, go to www.azclassicjazz.org or call 480-620-3941. This band will also appear at the festival in November.
The Sun City Stomperz have been delighting music lovers on the west side of the Valley since 2005, and they are always welcomed with joy on this side of the Valley. Leader Ernie Landes plays trombone and became enamored with Traditional Jazz while attending Stanford University. Bob Scobey and Turk Murphy were popular in the San Francisco area at that time. The rest of the band is composed of very talented local musicians: Clark Chaffee (drums), Barry Clapper (clarinet), Matt Mooney (banjo), Dan Reed (trumpet), Lloyd Schaffer (piano), and Chuck Stewart (tuba).