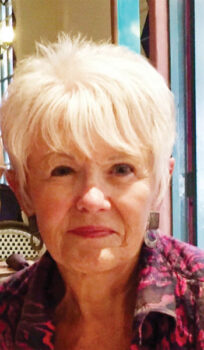 Join the Roundup at the Sun Lakes Women's Connection, their first event of the season, on Thursday, Nov. 10, at 10 a.m. in the Oakwood clubhouse ballroom located at 24218 S. Oakwood Blvd., in Sun Lakes. A continental breakfast will be served (gluten-free available upon request), followed by music, line dancing, and guest speaker Sue Thomas, a Sun Lakes resident.
Sue is an educator with a PhD who taught in Arizona, California, Illinois, and Jamaica. She was a game show contestant, braved water skiing in shark-infested waters, learned to play the cello, acted in local productions of Doo-Wop as Granny Clampett, played tennis as a member of the Cottonwood Tennis Club, and has been an enthusiastic line dancer. She will share her "Life Lessons Learned." All this for $20, inclusive, payable at the door.
Bernadette Petrucci, our special feature, originally from New York, has an extensive background in ballroom dance, including independent studios and the Fred Astaire Staten Island Studio. She toured with Vito Picone and the Elegants as a backup dancer. Bernadette expanded her dance to include line dancing eight years ago. She currently is a guest teacher at private and public functions throughout the Valley, including Optum, and she is featured in many line dance videos. Be prepared to learn some easy line dance steps, and feel free to wear Southwestern/Western clothing, all optional.
Attendees will hear the fiddle music of Ron Privett to welcome them to this event with a Western theme. During the program, Sun Lakes residents Sally Holberg and Merrie Crawford will favor the guests with some old inspirational songs with a bit of Western flavor. So, get ready to clap. Hee Haw!
Reservations for this fun-filled event can be made by emailing Lyn at [email protected] or call Gail at 480-802-7274 or Cindi at 515-770-7974. Reservations due by noon on Friday, Nov. 4. Cancellations must be made by Tuesday, Nov. 8, by 10 a.m. by emailing [email protected]
Affiliated with Stonecroft – Where She Is, As She Is. Stonecroft.org.