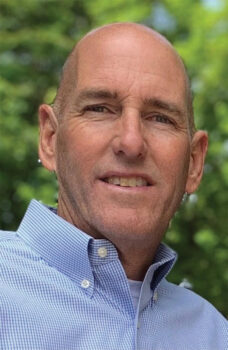 Nancy Stutman
Almost in our backyard sits a gem honoring all veterans of the military. The development of Veterans Oasis Park Field of Honor from conception to reality will be the topic for the Sunday, Sept. 18, Jewish War Veterans (JWV) Copper State Post 619 meeting. Mickey Ohland, Community Services Planning Manager for the City of Chandler, will address the group in the Poolside building of Oakwood Country Club, at 24218 S. Oakwood Blvd., in Sun Lakes.
Complimentary bagels, lox, and coffee start at 9:30 a.m., followed by the speaker at 10 a.m. Everyone is invited, and there is no charge, but to partake in the food, a reservation is required by Friday, Sept. 15, at 5 p.m. by contacting Joyce Spartonos, preferably by email at [email protected], or by phone at 480-802-4902.
Mickey Ohland joined the City of Chandler in 1995 as the Landscape Coordinator for the Community Services Department and then became Park Planning Superintendent and Park Development and Operations Manager. In 2017, he took on the role of Community Services Planning Manager. In this position, Mickey oversees park acquisition, park development, and other department-wide projects.
Mickey has been involved with the Chandler Veterans Memorial Project since its inception in 2008. Last year a ribbon-cutting ceremony showcased the City of Chandler's latest tribute to veterans: the new Field of Honor at Veterans Oasis Park.
Situated on the southwest corner of Veterans Oasis Park, the Field of Honor at 4050 E. Chandler Heights Road in Chandler, pays tribute to the Southeast Valley's past, present, and future veterans. The Field of Honor is the first veterans' memorial of its size and scope in the Southeast Valley. The memorial honors all veterans from all branches of the U.S. military.
The memorial, made up of stone columns, is designed after the American flag and is especially beautiful when lit up at night. The natural, recessed setting within Veterans Oasis Park offers a peaceful space for reflection and a place where individuals, families, and groups can express their love and appreciation for our veterans.
Veterans Oasis Park is open for public use from 6 a.m. to 10:30 p.m. The park consists of 113 acres and offers a playground, water oasis for fishing, walking paths, horse trails, and a pavilion, which can be rented.
JWV Post 619, which meets the third Sunday of the month from September through June, boasts members who represent a wide range of religious affiliations and participates in philanthropic activities to help Jewish and non-Jewish veterans. Money raised from its Poppy Drives and fundraising activities enable the Post to fund their mission of supporting hospitalized veterans, at-risk veterans, and veterans experiencing homelessness.
To learn more about JWV activities and membership, contact Elliott Reiss at 480-802-3281 or [email protected].