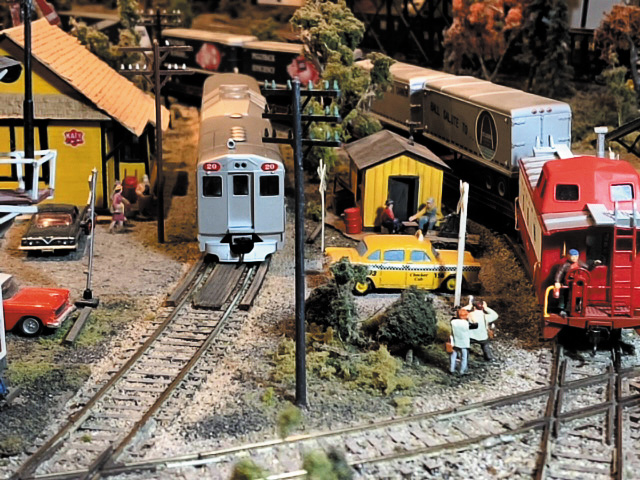 Harry Huckemeyer
We are happy to say that the Short Line Model Railroad Club is in full swing and right on track, with several key events to carry us out to the end of the first half of the 2023 season. For those who may have an interest and would enjoy the thought of getting involved, please don't hesitate to give us a call. We typically meet on the first Saturday of the month but, at times, with conflicts with the timing of scheduled events, we do have to occasionally make some adjustments to our regular agenda.
Since the latter part of last year and the earlier months of this year, the Short Line Model Railroad Club has been kept pretty busy. Hopefully, you all had the opportunity last month to spend some time at the Open House at the Arizona Railroad Museum here locally. In season, they are open on weekends and, as an added benefit, on certain Saturdays of the month at the museum, a boxcar is maintained by volunteers who will walk you through an assortment of model layouts that are fully operational during certain limited hours. Our club has recently been invited to participate in an event that will feature a popular large "HO" layout at Freedom Village that is not too far from this area. We will be running our "N" scale layout to help complement the day. Dates for that are March 4 and 5.
Additionally, we have been invited to take part in the Earth Day Celebration scheduled for April 1 in Apache Junction. This is a popular event held annually at Earth Park under the wide open skies. For this down-to-earth event, you bring a blanket and a few chairs and enjoy a day out in the sun and full of fun. A wide variety of food trucks will be on hand with many choices to satisfy your needs, entertainment, and more, especially for the young at heart and the children, in an event that normally draws large crowds from all over the Valley.
If you have an interest in trains and are looking for that special item, there are train-only swap meets held around the Valley rather frequently. We follow them closely, so feel free to get back to us for additional details on times and locations. For that and other information regarding our club's activities, we can be reached at 480-600-1349 or [email protected].