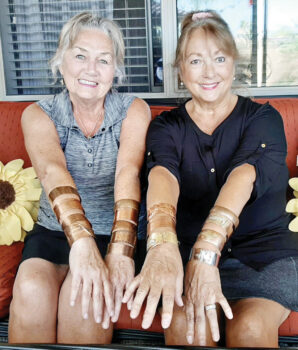 And the best part is that they made them (all by themselves) as members of the Sun Lakes Rock, Gem & Silver Club! How'd they do that? Well, the first thing they did was join the "Rock Club" for only $25 for one fiscal year! When is that? Every October through September, but you can join anytime by going to our website, www.slrgs.com.
Okay, then what? Sign up to take a class and learn how to make a bracelet or two out of gold (maybe not gold until you get really good at it) or silver (a good choice is sterling silver, which is 92.5% pure silver) or maybe start with an even less expensive metal like ancient bronze, copper, or brass (which, when polished up bright, many onlookers will actually think are gold!).
Which classes should I consider for making my very own bracelet? That's up to you, but here are some ideas for newcomers: Lost Wax is a process where you first select your design from hundreds in red wax, and then you are taught how to make a mold from which molten metal is poured. And then, when cooled, you clean off and polish your new metal bracelet. Silversmithing is a process of fabrication of metal by hand through measuring, cutting, bending, soldering, and polishing to a very high shine, for your new silver bracelet. PMC (Precious Metal Clay) is an alternative to Lost Wax or Silversmithing. The metal clay comes in silver, copper, and bronze, and then it is rolled out, textured, molded into a bracelet, and embellished before firing in a kiln. Once the binder is burned out in the kiln, your bracelet is fired, cleaned, and shined, and you'll have a metal bracelet work of art. Beading is an old-time favorite, and the classes are for loom beading and freestyle. Loom beading teaches how to make your bracelet design, string the loom, weave, and finish your piece. Freestyle is a fun way to use up beads and create a truly one-of-a-kind bracelet. Classes give step-by-step directions and demonstrations for bead weaving. Students are provided with a handmade wooden loom, written instructions, bead-weaving grid, thread, needles, and seed beads to get started. Woven wire bracelets can be made using many kinds of wire incorporated in a multitude of designs. Use one specific wire or choose to mix the wire: copper, bronze, gold, or silver. Also, you can use any kind of less-expensive, nontoxic metal wire. Mixed metals are currently extremely popular.
Okay, so there you have it, five different art forms where you can make your own really cool bracelets inside our air-conditioned craft shops located in three of our HOAs: Sun Lakes Country Club, Cottonwood, and Oakwood. It doesn't matter where you live in Sun Lakes. Just join the club, and take a class.