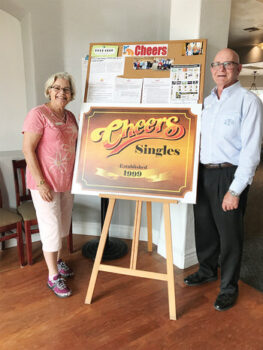 Ann Kisner
Now that the nice weather is here, we are ready to move about and enjoy our beautiful weather.
We look forward to more freedom, and the ability to do the activities we enjoy. By the time you are reading this, hopefully, we may be able to return to our Thursday social hours.
For all you new single residents who have moved in during the pandemic, we look forward to welcoming you to our singles club. You will find our social hour at Poolside Café every Thursday is a great place to meet and make new friends. Several of our monthly activities to enjoy are dining out at local restaurants, and wine tasting at one of our members' home.
Thanks to all of you who have brought items for the Chandler/Hamilton schools' children in need. It's important that we all do as much as we can to help these students work to achieve a better life. Keep the donations coming. Also, money is used to buy the items needed by these students. For more details about donations, call Sally Wegryn at 203-470-0733, or Sue Agnew at 480-491-0733, or check out our website at www.cheerssingles.org.
If you are a single living in Sun Lakes, SunBird, Solera, or Springfield, you are welcome to join us when life begins to be more normal. We would love to have you as a member.
If you want more info, call Ginny Marr at 480-390-5145, or Richard Lewin at 480-525-3630, or check out our website at www.cheerssingles.org.