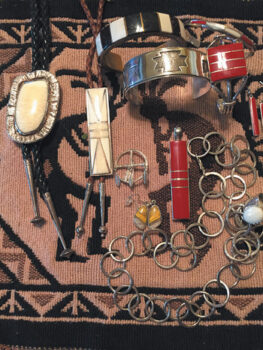 Richard Sanderville was born in Browning, Mont., and he's a member of the Blackfeet tribe.
The largest ethnic group (97.3%) of the residents in Browning are American Indian. Browning was named after Daniel M. Browning who was then the Commissioner of Indian Affairs in Washington, D.C. The City of Browning has served as the agency headquarters for the Blackfeet Indian Reservation since 1895. (Their name comes from the dark painted moccasins they wore). Richard's father worked for the Bureau of Indian Affairs and moved the family to several reservations during his childhood, which enabled Richard to learn the customs and traditions of various tribes.
Proud to have served his country as a U.S. Marine (Oorah!), Richard enrolled at the United States Indian Industrial Training School in Lawrence, Kan. In 1970 it became Haskell Indian Junior College, and in 1993 the Assistant Secretary for Indian Affairs approved the name change to Haskell Indian Nations University. Today, Haskell continues to serve the educational needs of American Indian and Alaska Native people from across the United States.
After graduation from Haskell, Richard's sweetheart Kay took his last name and became Mrs. Sanderville! Next was a move to Albuquerque, N.M., to work for the renowned research and development facility Sandia National Laboratories. For 35 years he worked in nuclear and energy field testing, laser engagement systems development, and video engineering. When it was time to retire, Richard and Kay bought and have enjoyed a winter home here in Sun Lakes for the past 13 years.
Shortly after arriving in Sun Lakes and seeing all the classes offered by the Sun Lakes Rock, Gem & Silver Club, he signed up and began giving back.
The first stop on his silversmithing journey was taking each of the Silver classes, i.e., Silver One, Silver Two, Inlay, and Overlay, and then he decided to teach others and became an instructor. Later, he became the Silver chair and continued to mentor new students and Rock Club newcomers. Richard states, "I had no idea that I could design and make the jewelry that I have made."
After a few years of teaching and monitoring Silver classes, Richard has once again stepped up to co-chair the Rock Club's Silver chair position. This current co-chair position is shared with Susan Carter (also a winning silver artist).
Would you like to know more about the Sun Lakes Rock, Gem & Silver Club? Check out our 19 different classes on the website slrgs.com. Who knows? While you can't become a Native American like Richard, you sure can learn how to make sterling silver jewelry and cut and polish turquoise in the very popular Southwestern style of the Native Americans.
This article is dedicated in appreciation for all beautiful jewelry designs made by the Native American Indian tribes: the Blackfeet, the Navajo, the Hopi, and the Zuni. Kudos also to Linda Shanahan for permission to reprint copy facts from "Member Spotlight."