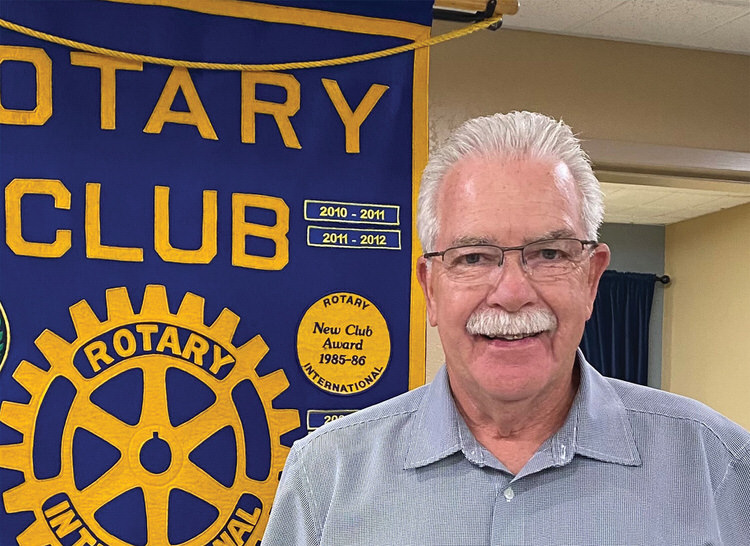 Dr. Honora Norton, Public Image Director
Rotary Club of Sun Lakes (RCSL) is honored to name Dick Meyer as the club's October 2022 Rotarian of the Month. A Rotarian since 1988, Dick Meyer served as club president at his Nebraska Kearney Noon Rotary Club. He was very active in RI District 5630's Youth Exchange Program. He joined RCSL in November 2021. Dick has actively served on golf and membership committees. Dick is a former University of Nebraska—Kearney EDAD Associate Professor and Chair Emeritus. He earned his Education Doctorate and master's degrees at University of Nebraska. Over his years in education, Dick received many distinguished honors of excellence. Dick's hometown is Hebron, Neb., and he lives in Gilbert, Ariz., with wife Sheila. Congrats to Dick Meyers.
The club continues to support local nonprofits by donating $300 to Amanda Hope to purchase fleece to be used to make 20 blankets for children with cancer. The club is collecting candy and getting ready to bling out their cars to be at Amanda Hope's Trunk or Treat event on Oct. 28.
RCSL supports Rotary International's PolioPlus campaign. Per RCSL Rotarian and Sun Lakes resident Peter Meade, it would be great to see this deadly disease vanish from the face of the planet. Unfortunately, that hasn't happened yet. Polio is still surfacing here and there. In recent memory, it has always been in the Middle East or parts of Africa. This summer, though, it made an appearance in, of all places, New York! Proving that polio is relentless, and if given the opportunity to spread, it will.
Since 1988, there has been a 99.98% reduction in polio cases worldwide. Rotary International has been a key player in making this happen. This year, Rotarians again have an opportunity to keep it moving in the right direction. PolioPlus Rotary teams and resources are being utilized to deliver lifesaving care, medicine, and treatment to those who need it most. This year, RCSL is again going to use the PolioPlus Virtual Board where donors can purchase squares for $10 each. The squares will be randomly assigned, and a random number generator will be used at a live/Zoom meeting to determine the winners. For every 100 squares sold, there will be a winner who will have $1,000 donated in their name to PolioPlus.
For more information about RCSL programs and membership, see www.sunlakesrotary.com.