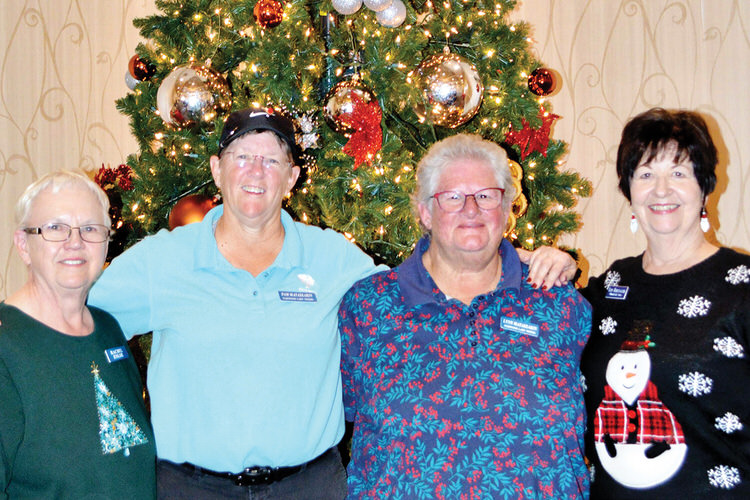 Reggie Wegman
Our Christmas Scramble and Luncheon was a great success. The Ugly Sweater Contest was not so ugly. Actually, some of them were pretty darn cute.
Kathy Chebuhar, our president, installed the new officers: Pam Matassarin, president; Loy Rheinauer, vice president; Lynn Matassarin, secretary; and Rachel Enloe, treasurer.
Thank you, Kathy and the members of your board, for all the work they did for our league this past year. And a great big welcome to all of our new members. I hope you all enjoy your time with us.
Please read the Minutes to this month's board meeting. There will be some changes, and I think you will agree with their benefits. The flights have been realigned, so if you see yourself in a different flight, know it's a good change. Players will now be rewarded chits if they pick up at NDB (Net Double Bogey). If you need more information about how NDB is calculated, Judy Hedding is a great source and, of course, Pam, our new president.
Our social members (those who no longer play golf but join us for luncheons) will no longer pay a fee, and anyone who has already paid will be reimbursed. Please let Rachel Enloe know if that is your case. Mark your calendars for the luncheons in 2022: April 12, Nov. 8, and Dec. 6.
We need more volunteers, plain and simple. The league doesn't run itself, and the more ladies we have helping with the committees, the easier it is.
If you like to organize dinners, etc., think about joining the Social Committee. If you're a good planner, the Weekly Pairing Committee is for you. You do not need to be a full-time resident. We stop paying chits and having official games in late May.
So, even if you live part time in Minnesota, Maine, Vermont, Oregon, or Canada, you can still help out.
We will be in the new year when you read this, so let's all have a wonderful year full of fun and lots of golf.