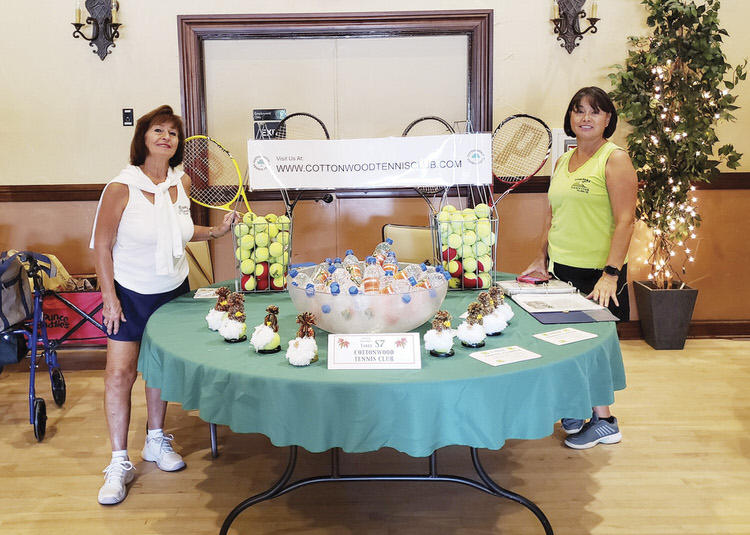 Penny Petersen
One of Cottonwood Tennis Club's best players, Ollie Johnson, and her Mixed Doubles partner Terry Jackson of Albuquerque, N.M., won the Gold medal recently at the Huntsman's World Senior Games held in St. George, Utah.
They competed in the age 70-74 category in Mixed Doubles and were seeded as the number one team. Gold, Silver, and Bronze medals were awarded in each category (Singles, Doubles and Mixed Doubles).
The Huntsman's World Senior Games began in 1987. It has grown into a worldwide leader in active aging, fostering worldwide peace, health, and friendship. The annual sporting event is held for two weeks in October every year, and offers 35 different sports to athletes and enthusiasts from all around the planet.
Over 11,000 athletes from around the world competed in the 2022 Huntsman's World Senior Games. Since its inception, the games have been open to all athletes 50 years of age or older by Dec. 31 of the respective year. Athletes who medal are qualified to play in the National Senior Olympics, which will be held in Pittsburgh in 2023. Ollie and her partner Terry plan to compete in the 2023 National Senior Olympics.
In this year's competition, Ollie was honored to carry the Tennis Flag and lead the tennis athletes in the Parade of Athletes Ceremony. That ceremony features a parade of all athletes by venue, as well as singing, dancing, and fireworks. Other favorite activities included line dancing at the New Friendship Festival, seeing old friends and making new ones, watching table tennis, and hiking the Narrows Trail in Zion National Park.
When she's not traveling, Ollie is one of the assistant instructors for the CTC free Tennis Clinics held every Monday night from 7 to 8:30 p.m. on center court in Cottonwood. She assists Al Wagner who directs that program. You do not have to be a member of Cottonwood Tennis Club to attend the Monday Clinics. They're free, so just show up. You don't even need to own a racket.
For information regarding joining CTC, contact Membership Chair Susan Hood at [email protected]