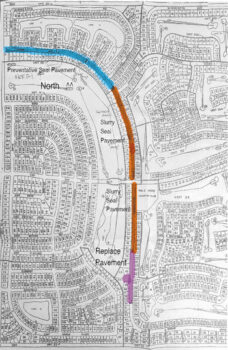 Mark D. Brauer
The 2022 proposed annual Repair and Replacement Program is underway. We encourage all Palo Verde residents and those traveling into the Palo Verde area to plan their travels around these work areas. Swaine Asphalt and their support team will be working the removal area first on this proposed schedule:
April 4 – Remove asphalt by milling from 26233 Ribbonwood Drive to 26438 Ribbonwood Drive at the concrete drain, including the Sunnydale Drive cul-de-sac (pink area on map)
April 5 – Replace asphalt with asphalt/fiber mix previously removed (pink area on map)
Since liquid asphalt products are being used, the Palo Verde Road Board strongly suggests alternate paths be used while the work is underway. Half the street is treated one day and then the other half on the next day. For residents or those who happen to travel through the work area, we encourage slow speeds to protect both the treated areas and your vehicle. The liquid product application planned schedule is as follows:
April 6 and 7 – Slurry Seal Ribbonwood Drive from the concrete drain at 25614 Ribbonwood Drive to San Tan Boulevard and from San Tan Boulevard south to 26233 Ribbonwood Drive where asphalt was replaced (orange area on map)
April 12 and 13 – PMM Seal Coating Michigan Avenue from the Michigan gate to the concrete drain at 25615 S. Ribbonwood Drive (blue area on map)
April 14 – Reflective tape installations at speed hump at 25810 S. Ribbonwood Drive and at stop signs (two) on San Tan Boulevard at the four-way stop (orange area on map)
To keep our Palo Verde road system affordably maintained, we ask for your assistance and patience to execute this planned work.