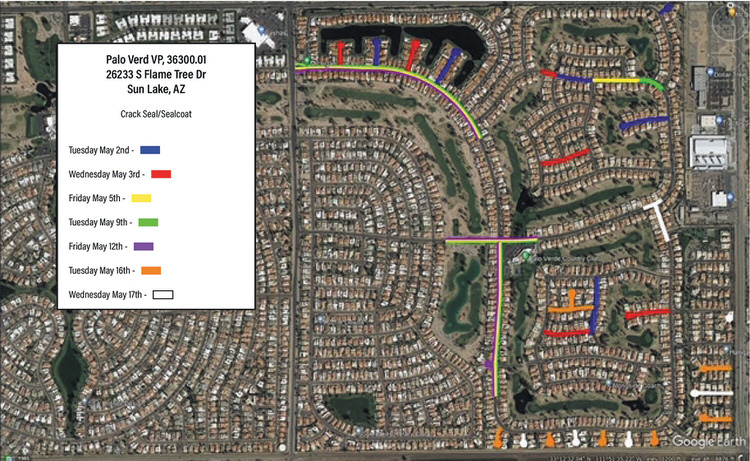 Mark Brauer, President
Palo Verde Road Management is now into its third phase of 2023 projects, having completed the second phase of removal and replacement of a portion of Ribbonwood.
Almost 60% of Palo Verde road surfaces will be seal coated in the first three weeks of May. Everyone will be impacted, as both gates are being improved.
When the work is scheduled in front of your home, please park outside the work zone the night before. Please understand that mail delivery that day may not happen. You will note that on the main arteries (the wider streets) the seal coating will be done in thirds. We ask that if you live on the wider street that you park on an adjacent street on your work day. By parking away from your home and not on the opposite side of your street or anywhere in your cul-de-sac, the work can be done quickly, and two-way traffic can be maintained on the main streets.
For residents, please look at the accompanying map or your homeowners letter. If you didn't get a letter or misplaced it, please go to the Homeowners section of the Cottonwood Palo Verde Homeowners Association website, www.cottonwoodpaloverde.com, and select the Palo Verde Road Management tab to find the 2023 work information. The map of the May seal coat work and weather-permitting schedules are included there.
Finally and in response to Palo Verde resident comments in our January annual meeting, we are in the process of executing the complete replacement of street and other traffic control signage throughout Palo Verde. We have already started with some sign pole additions and replacements. The signage replacements themselves will be completed by this fall.
Your fellow Palo Verde residents who make up the nine-member board of the independent Palo Verde Road Management Inc. (PVRM) are working hard to maintain our private roads and drainage systems. If you have questions or concerns for PVRM, please contact Mark Brauer, president, at [email protected].