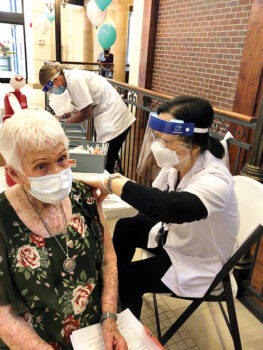 Erin Fjell, Sales & Marketing Director
The safety and well-being of our residents, family members, guests, and staff has always been the number one priority at Renaissance since the day we opened our doors in August of 2000. Despite the unprecedented challenges COVID-19 presented, the Renaissance team immediately took action by taking a proactive approach, swiftly issuing new safety protocols, extensive screening processes, and detailed cleaning of common areas twice a day. Because of this approach, we are very fortunate COVID-19 has not affected us like so many other senior living communities. For this, we are very fortunate and grateful.
During the last year, it became apparent that communication is key! Therefore, Renaissance has consistently been transparent with residents, family members, and prospective residents on new policies, while following Centers for Disease Control and Prevention guidelines, as well as state and local public health departments. A written notice goes to all residents and/or staff members of potential exposure, the dates of the potential exposure, and if a resident has been in direct contact with someone who has tested positive. Those having direct exposure are quarantined for the prescribed time and are tested for COVID-19 to ensure their health. We also implemented practices with staff for social distancing, staff coverage, flexible leave policies, and rapid communication for our team members as well.
On Jan. 18, due to the diligence of our Health Services Administrator Lance Williams and his team, Renaissance was one of the first senior living communities to receive the first dose of the Moderna vaccine. In partnership with Walgreens, we were able to vaccinate our assisted living residents, memory care residents, as well as our independent living residents and staff members. We are happy to report that over 80% of our residents have participated in receiving the vaccines. This is not including the residents who have signed up for our second vaccination clinic, which will be held on Feb. 15 (with a third coming on March 15 as well). Our first vaccination clinic ran seamlessly with no significant side effects reported from staff or residents.
As we all know, every good plan requires an equally good contingency plan. Every single day, we monitor the changes happening with regard to the pandemic, and make operational changes as necessary. All the while, having our residents' safety and best interests at heart.
For more information on Renaissance Senior Living, please call 480-833-2000, and ask for Erin or Dale.