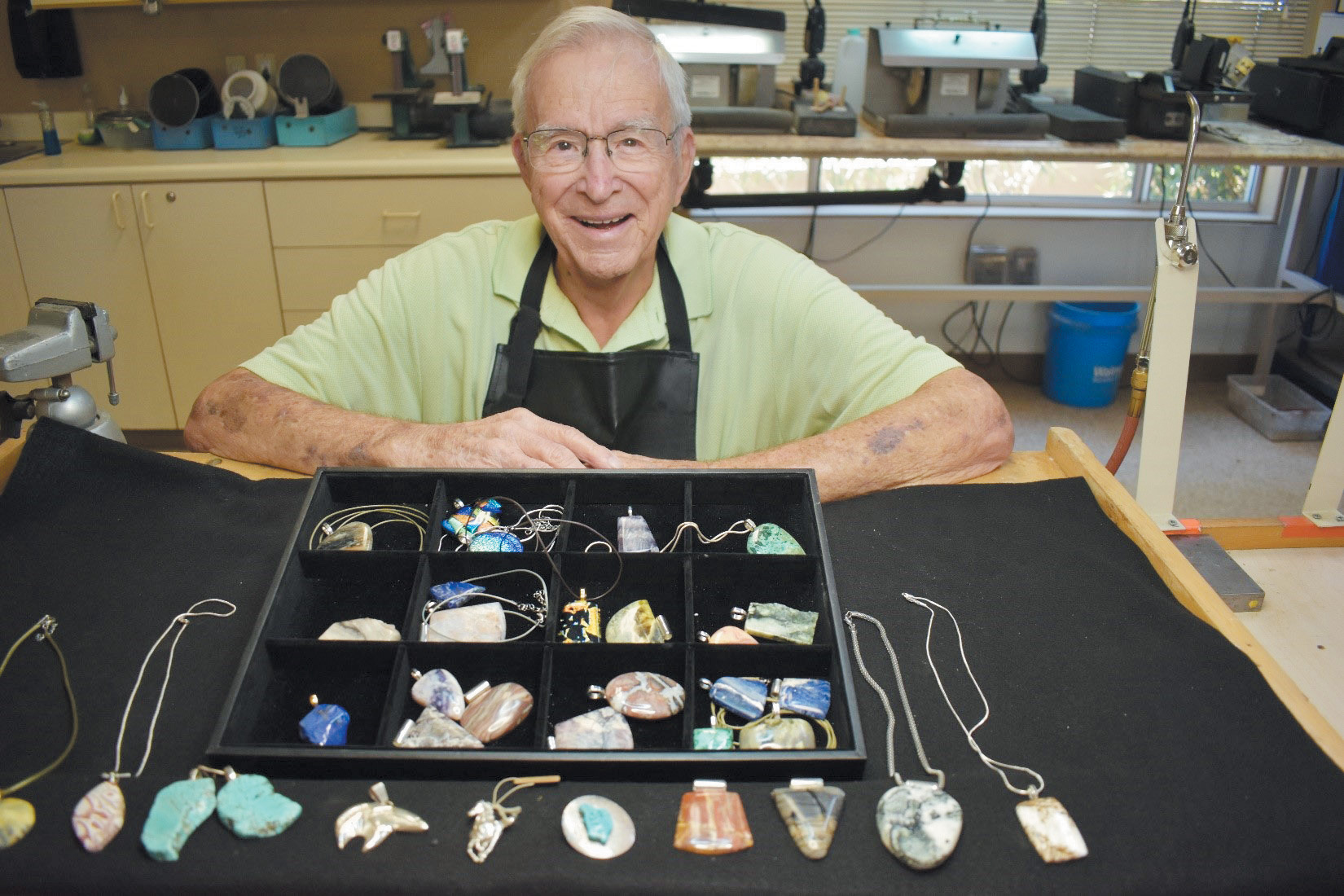 This month's Member Spotlight is on William Elmer Ranney, whom we call "Bill" and who turned 90 this year. Bill wasn't very busy until he and wife Cathy started selling all the jewelry, earrings, pendants, and necklaces that he makes in the Sun Lakes Rock, Gem & Silver Club.
It all started back in Bloomington, Ill., where Bill was born and raised and graduated from Bloomington High School. Drafted and serving two years in the U.S. Army, Corporal Ranney specialized at the Atomic Artillery Battalion. Graduating from Illinois State University in Normal, Ill., in three and a half years with a B.A. plus a teacher's certificate, he went on to work at State Farm headquarters in the Photo Stat Department.
In 1964 he moved to California and worked 32 years for Home Savings & Loan, which was the largest in the world at that time. After meeting and marrying his wife Cathy (now celebrating 44 years), they moved to Sun Lakes where Bill joined the Sun Lakes Rock, Gem & Silver Club, the Hiking Club, the 40s and 50s Club, and the Ironwood Men's Golf League where he served as president and other volunteer positions.
Predeceased by his mom, dad, brother, and sister, today Bill donates his time as a monitor in the Lapidary Craft Shop in Oakwood. Over the years, he has taken nearly all the classes as a student, and then as an instructor he enjoyed teaching Lapidary and Silver. This summer he's revisiting the Lost Wax class, which he first took 25 years ago. This is just one of 19 different craft areas offered. Want to see them all? Just go online to www.slrgs.com and check it out. All you have to do then is sign up for an annual membership. Soon, you'll be having fun, getting creative, and learning something new!
When asked, "What do you do with all of the money you make selling your jewelry at craft shows?" Bill says, "Cathy spends it!" She has been a Snoopy collector since 1970, and there's no end in sight when you have hundreds of Snoopy dogs to take care of.