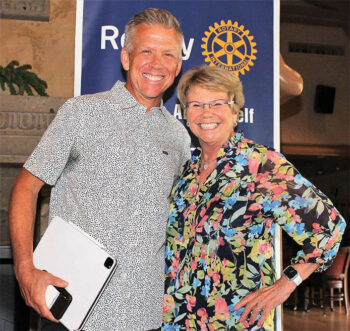 Dr. Honora Norton, RCSL Public Image Chair
Rotary Club of Sun Lakes (RCSL) started its August weekly meetings with a most engaging speaker—Richard Cassey, creative director of Fox Restaurant Concepts (FRC). RCSL Rotarian and Sun Lakes resident Elaine Ralls introduced Richard who provided an overview of Fox Restaurant Concepts' 11 brands in 8 states (see www.foxrc.com for a list of restaurants) and new brand creation processes. Many oohs and aahs of excitement were shared by attendees after learning of FRC's evolving culinary/hospitality experiences, of FRC's dedicated 5,000-plus strong service team, and of the mastery of CEO and founder Sam Fox who, through his dedication and passion, has become one of the nation's 50 most restaurant influentials and has made FRC the creative community it is today.
In addition to the rewarding community service projects, Rotary Club of Sun Lakes continues to grow its calendar with outstanding speakers: innovators, legislators, military officials, sports figures (professional/university), artists, educators, and business owners/professionals, as well as engaging social events and more. Check out RCSL's calendar on www.sunlakesrotary.com.
Club President Stephen Phair announced the club's August Rotarian of the Month—Gary Kay. Gary is a retired commercial banker, college administrator, and adjunct professor. He served in the U.S. Army (Germany and Vietnam 1966-69). He was educated at University of California, Riverside. Gary is past club president of Rotary Club of Friendswood, Texas, served on the club's Foundation Board, and has been an RI interact/exchange student advisor. Currently, Gary, who lives in San Tan Valley, serves as RCSL's education chair, leading club activities related to school STEM projects, scholarships, teacher awards, and support of Rotary Rotaract and Interact Clubs located in Valley high schools and universities.