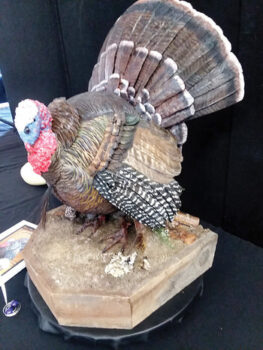 Vicki McKenna, Publicity
We all enjoyed the Wuertz Running of the Gourds Festival in February. It was a huge success. You wouldn't know we are getting over the COVID-19 restrictions. People in the Competition Hall were encouraged to wear masks, and the majority did. Again, the gourds submitted were fabulous. We had about 200 entries. Spirit of the Desert members received the following ribbons:
Pattie Langton: Two first place, two second place, Best of Division for Advanced
Deanna Dawes: One first place
Cheryl Stokes: Two first place, one third place
Karen Wollsched: Two second place
Barbara Rowland: Two second place
Vicki McKenna: Grand Master
Julie Hemer: Grand Master
Spirit of the Desert Gourd Patch Collaborative: Second place
Our monthly meeting is held at the Arts & Crafts Room on the third Thursday of the month from 4 until 6 p.m. Please feel free to stop in and see what we are all about—a group of people with the same hobby enjoying each other, inspiring each other, and having lots of fun. We also meet weekly in the same location each Monday from 9 a.m. to 5 p.m. Stop in and get inspired. If you attended the festival, you have an idea of what awesome things a plain old gourd can evolve into. The following gourds were on display in the Competition Hall:
A turkey gourd that was totally made of gourds and was a ribbon winner. The feathers were all carved. Only the head had sculpted clay.
A hanging gourd won Best of Show and was spectacular. The coloring and different carving techniques stood out to make it Best of Show.