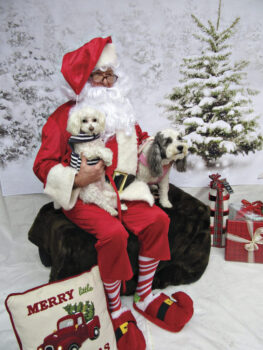 D. Williams
Yep, Santa called and wanted to adopt an older dog to keep him company while Rudolph leads the way with his bright, shiny nose. I asked Santa, "Why an older dog," and, boy, did I get the answers! Thought I would share with you this holiday season what Santa said. First off, Santa said …
"Senior dogs need homes just as bad as younger dogs. Did you know older dogs are potty-trained and have mastered the basic commands such as sit, stay, come, and down. They need that at the North Pole. An adult dog, like my Skipper, has graduated from the puppy stage and has an established demeanor and temperament. He has all his adult teeth, which results is less destruction to the home. I have never had an older dog upset the garbage, chew up a shoe, or chase Rudolph.
"You can teach an old dog new tricks, they are just as smart as younger ones and have a greater attention span than a puppy, which makes them easier to train. An older dog makes an instant companion. Skipper is ready to accompany Rudolph and the reindeer on our travels.
"I'm getting older, and I do not have the same high level of exercise in me. Older dogs love to take long walks, play in the snow, and ride in the sleigh. They want to soak up all the love you have to offer. They are so grateful to have a warm place to sleep, good food to eat, and a human of their own. If you have a little space in your home, consider filling it with an older dog. There is nothing like a tender moving heart of an older dog. And best of all, a late night snuggle buddy."
The "Kids" said Santa was slaying out of sight with his new best friend when they heard him say, "Merry Christmas to all and to all a good night."
Rovers Rest Stop & Ranch wishes you a happy holiday and the very best in the new year. See you on Dec. 10 in the Dance Room at Cottonwood for our great Christmas celebration and Santa pictures—everyone is welcome, two- and four-legged, and they are free! Yes, I will make sure to bring some older dogs. Blessings to all!