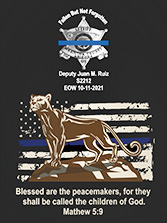 The semi-annual community Shred-a-Thon safely destroyed thousands of sensitive documents for Sun Lakes residents on Saturday, Oct. 30, but that wasn't the most meaningful number of the day.
Over $2,000 was donated by Sun Lakes community members, local businesses, and the Sun Lakes Posse to honor fallen MCSO deputy Juan Ruiz, who was killed in the line of duty on Oct. 9. These funds were handed directly to the MCSO Memorial Fund to benefit Deputy Ruiz's family.
On behalf of all our event sponsors, we would like to thank all the generous members of the Sun Lakes and surrounding communities for their donations to our fallen hero's family. These sponsors include MCSO Sun Lakes Sheriff's Posse; the Sun Lakes Posse; Amy Nelson, Keller Williams; Vicki Paez, Edward Jones; Lisa Estes, VIP Mortgage; Craig Lloyd, American Family Insurance; Magnus Title; Say Anything Designs; and Sunrise Shutters.
We would also like to recognize our law enforcement partners from the Chandler Police Department for their support of this great event.
Since 1987, your Sun Lakes Posse and MCSO Sun Lakes Sheriff's Posse have been serving the community of Sun Lakes. Over the past 12 months, marked patrol units have logged over 4,000 hours patrolling local neighborhoods and answering law enforcement calls. In addition to patrols, the Posse Medical Equipment Loaner Program volunteers provided another 2,000 hours of community service over the last 12 months.
MCSO Sun Lakes Sheriff's Posse members also answered the call to stand watch over Deputy Ruiz's family home the day he was fatally injured.
As our Sheriff Paul Penzone said, "This is what real law enforcement looks like."
For more information on upcoming events hosted by the Sun Lakes Posse, visit our website at www.sunlakesposse.org.