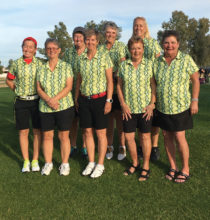 Judy Wegener
January kicked off with our annual Home and Home with the Ironwood Ladies 18-Hole League. The ladies had a great time and made some new friends along the way.
The Presidents Cup was played over the next two weeks.. This is a net event in which the two scores from each week are added together to determine the winners.
Congratulations to Jan Cobb for the overall winner of the Presidents Cup!
Jan. 14 and 21 Presidents Cup
Overall winner Jan Cobb
Flight 1: 1st Brenda Heyink, 2nd Kim Dunn, 3rd Debbie Loch; Flight 2: 1st Julie Hamlin, 2nd Judy Bray, 3rd Gloria Fronk; Flight 3: 1st Dori Winchester, 2nd Roxanne Belshaw, 3rd Betty Reagan and Cat Lajune; Flight 4: 1st Lilian Getty, 2nd Judi Kilgus and Ingrid Jefferies
Jan. 28 Scram a Sham
1st (tie) Brenda Heyink, Roxanne Belshaw, Goldie Herberg, and Fran Stevenson; Judy Wegener, Mary Oester, Pinky Kubiak, and Judy Cox; Nancy O'Donnell, Ann Carlson, Jeanie Fehringer, and Betty Peer