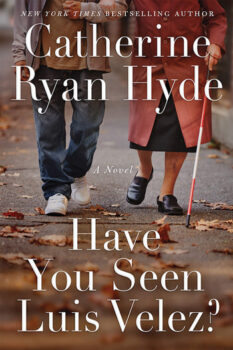 'Tis the season … for kindness, compassion, and good will. If you have time to read during busy December, this book is the perfect example of what the holiday season is about.
Sixteen-year-old Raymond Jaffe feels like he doesn't belong. At his mother's apartment, he's just an extra child his step-father endures and his half-sisters ignore. At his father's posh apartment across town, he feels like a weekend guest, especially with a resentful second wife who always finds a reason to leave when Raymond visits. School is another lonely place, and now his only friend is moving across the country. He's an underdog we want to cheer for, and especially when we get our first glimpse of his goodness as he takes time to feed a feral cat each morning.
Then an unlikely event occurs when Raymond is leaving his fourth-floor apartment for school and encounters an elderly lady, Mildred Gutermann, on the second floor. She's standing in her doorway, and as he passes, she asks in a feeble voice, "Have you seen Luis Velez?" When Raymond responds, "No," with no clue as to who this Luis is, he discovers that he's been missing for 17 days. He would come by several days a week to take Mildred to the bank and grocery. Now she is down to one can of condensed chicken and rice soup, which she has been rationing. Raymond offers her his granola bar and says, "I'll take you to the bank and store right now."
And so begins the unlikely and heartwarming friendship between a 92-year-old blind woman and a young boy with a big heart.
Raymond also decides to take on the mission of tracking down Luis to ease Mildred's concern for her caretaker of many years. Finding 21 Luis Valezes in the New York City phone directory, Raymond sets out to knock on doors each weekend. His search introduces him to a variety of Velezes, some friendly, some not, but he refuses to give up. His search creates a chain reaction within the people he's met and an outcome that changes him as well.
Author Catherine Ryan Hyde is known for creating authentic characters, and that she certainly has achieved in this tale, which is told simply, yet so profoundly.
Kirkus review says, "… a tender tale of new families born of chance and the determination to bring light into darkness." And isn't that exactly what this season is all about?
Reviewer Violetta Armour is a resident of Sun Lakes from Ahwatukee where she owned a bookstore, Pages, in the early '90s. She is the author of five novels, including the award-winning I'll Always Be With You, a book club favorite. Her books are available on Amazon. She also reviews books on her blog at https://serendipity-reflections.blogspot.com.