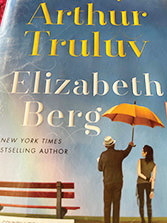 Vy Armour
I fell in love with author Elizabeth Berg's writing back in the early '90s with her first book, Talk Before Sleep. Her trademark is the ability to make ordinary people characters you want to spend time with, meet for lunch, and so often, people you hate to say goodbye to on the last page. Having heard her speak on two occasions at bookstores in Phoenix, I felt the same about her personally, as she displayed the warmth and compassion evident in so many of her characters as they deal with difficult situations in their life. A former nurse, many of her stories deal with sickness and death, subjects she seems very familiar with. In spite of these topics, her books are always uplifting. As author Fannie Flagg says about Arthur Truluv, "I dare you to read this novel and not fall in love with Arthur … he will make you laugh and cry … and what it means to be human."
Arthur Moses, at age 85, goes to the cemetery every day to eat his lunch at his late wife Nola's grave. At night he scrounges up whatever canned goods he can find in his pantry, tries to prevent his cat Gordon from running away, and dodges the busy-body next door, Lucille, who keeps trying to entice him to her front porch with her delicious baked goods.
One day at the cemetery, Arthur meets a troubled teenaged girl, Maddy, who often cuts classes at her nearby school where classmates torment her and make her the butt of their tasteless jokes. An unlikely friendship forms between this grieving senior citizen and the girl with a nose ring. She dubs him Arthur Truluv for the devotion he displays to his wife each day and for his loving and positive responses to every outrageous thing she says or does. Mandy, whose mother died when she was a baby, has been raised by a well-meaning but distant father, so she seeks love in all the wrong places—like a handsome Walmart employee who, of course, turns out to be a cad.
A few sub-plots are also interesting. Lucille's rekindled romance with a former high school sweetheart and Arthur's uncanny ability to sense what a person's life was like as he reads their tombstone.
Not to be a plot spoiler, I will just say that these three characters—Arthur, Mandy, and Lucille—come together in a way that renews the human spirit and shows how small acts of kindness turn friends into family.
Reviewer Violetta Armour is a resident of Sun Lakes and the former bookstore owner of Pages in Ahwatukee. She has published five novels, her most recent being Amazon.com A Pickleball Poison, book 3 of her Dangerous Pastimes Series. Her books are available on Amazon.com. She also reviews books on her blog at serendipity-reflections.blogspot.com.