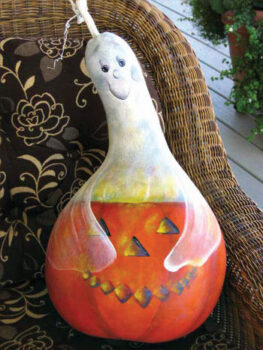 Vicki McKenna, Publicity
October is finally here, and our weather is finally getting a little cooler. Our first Spirit of the Desert Gourd Patch meeting will be held Oct. 20, in the Painting Room at Oakwood. We are trying something new this year for our members. We will have the room beginning at 2 p.m. until 6 p.m. We will be having a different workshop each month. October will be a Halloween workshop. Bring a clean gourd, ready to make into a pumpkin, witch, ghost, or anything creepy. We will display the finished (or half-finished) project at the meeting, which begins at 4:30 p.m. You will need to bring the supplies you need, i.e., paint, wood burning, etc., or take a chance we have something in our Gourd Cupboard. For any new members, we do have many tools available for use, but it is limited. We have a lot of fun, and we have members available to help.
Look for our Patch at the Open House in Cottonwood on Oct. 8, and Oakwood on Oct. 29.
Our Christmas Party is scheduled for Dec. 11 at the poolside building, so be sure to add it to your calendar. We have an ornament exchange every year, so start thinking about something fun for that.
We hope to see you on Oct. 20. In the meantime, we are getting together on Mondays in the Painting Room at Oakwood to work on gourd projects of all kinds. If you're interested in joining our group, stop in and see what we're up to, or check out our website, spiritgourdpatch.com.