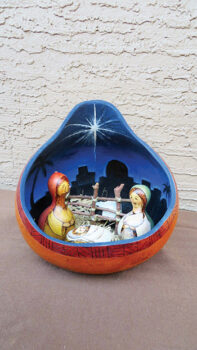 Spirit of the Desert Gourd Patch had a festive holiday party on Dec. 12 at the Poolside Café in Oakwood. The Patch provided the food, and the members provided the fun. Members brought ornaments made from gourds. We had penguins, Santas, Southwest, and many more fun items to hang on our trees.
We are now gearing up for our annual Wuertz Gourd Festival to be held Feb. 11 to 13. It is held at the Pinal County Fairgrounds in Casa Grande at 512 N. Eleven Mile Corner Road.
Our Patch will have a booth with many of our gourds offered for sale. Please stop by to see us in the vendor tent.
Our members also compete in the competition, which attracts artists from Arizona as well as other states. Arizona's Gourd Festival is known to be the largest in the U.S. Artists compete from Novice categories up to Masters. We also have two Grand Masters in our Patch who will be showing their gourds. It is well worth your time to come to see the imaginations of the artists and what they show each year.
Our Patch meets monthly on the third Thursday of each month, from October through April. Stop in on Mondays at the Arts and Crafts Room in Oakwood to meet members of our Patch.
If you are thinking of a new area of art to pursue in 2022, come and get inspired.