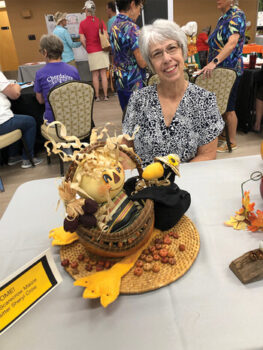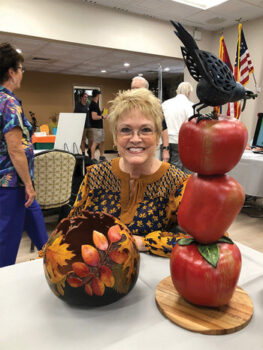 Vicki McKenna, Publicity
We had a great turnout for our kickoff for the season in October. We started at 2 p.m. on Oct. 20 making fun pumpkins for Halloween. We are planning to have a workshop prior to our meetings each month. Meetings are held on the third Thursday of each month at 4:30 p.m.
We had a booth to promote our Patch at the Open House in Cottonwood and Oakwood. Pattie and Vicki were there with some samples of gourds they made. Each booth at Cottonwood was asked to have a unique scarecrow. Pattie, our president, came up with Maise and her babysitter Sheryl Crow. We won fourth place, which we are very proud of, since there were so many booths represented.
We are looking forward to our Christmas Party on Dec. 11 at the Poolside Café in Oakwood. Start thinking about an ornament for the exchange.
A group of members meets every Monday at the Arts & Crafts Room at Oakwood from 9 a.m. to 4 p.m. If you are interested in learning more about gourds, please peek in and see what we're all about. If you would like to join our group, stop in. You can check us out on our website, spiritdesertgourds.com.