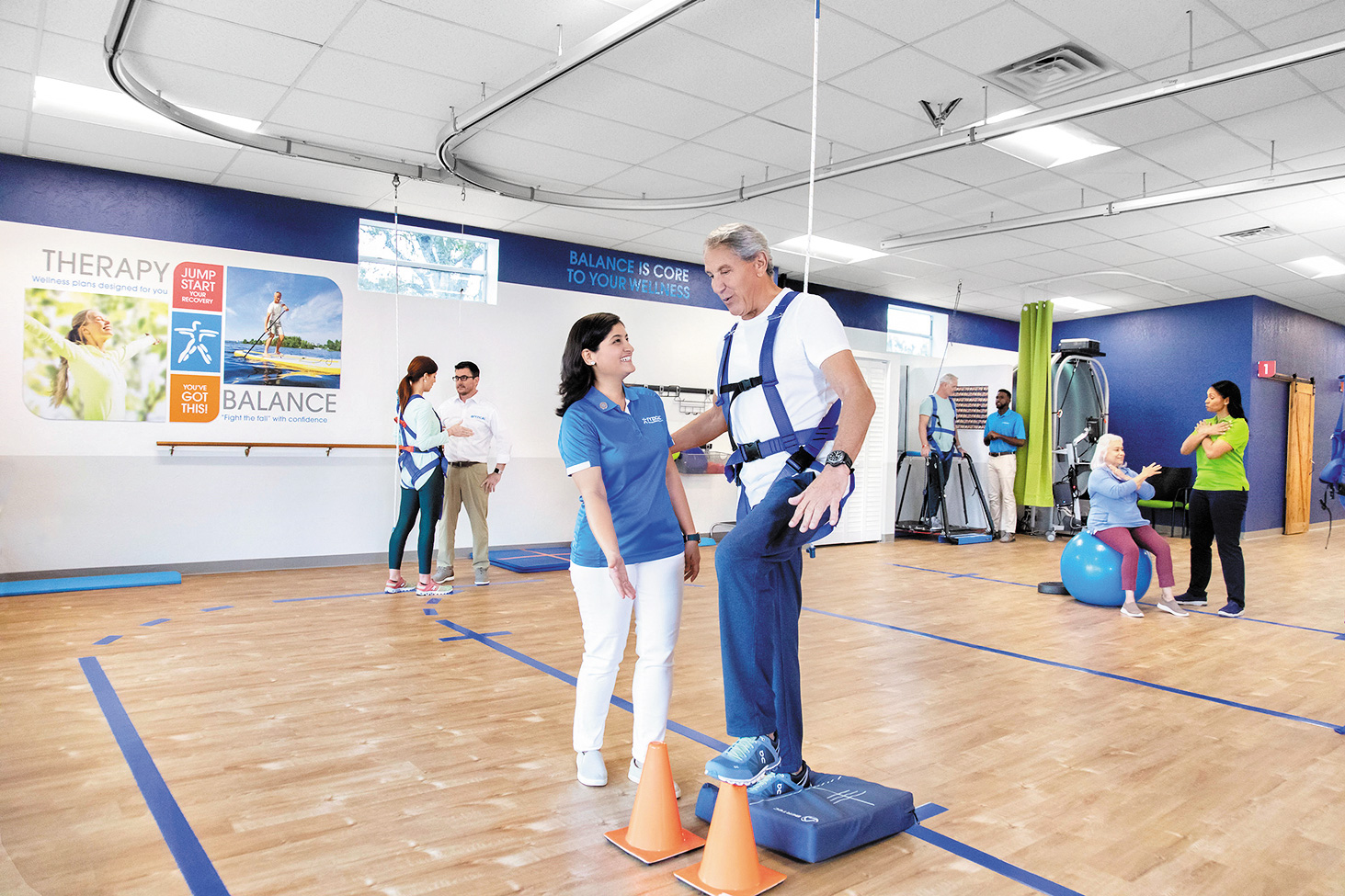 FYZICAL Therapy & Balance Center – Airpark South is a medical and scientific-based physical therapy and balance center. Spelled different because we are different! Founded in collaboration with medical doctors, physiologists, licensed therapists, and service business experts, we provide prescribed physical therapy, balance therapy, and medically-based physical fitness. Yet we are much more than your typical physical therapy clinic. Our goal at FYZICAL is to help you discover how to achieve the pinnacle of healthy living, expand your boundaries, feel younger, and revitalize your health.
Our Therapy Team
Our physical therapists have advanced clinical education and training, specialty certifications, and years of experience providing hands-on healing—with an emphasis on balance disorders and establishing whole-body wellness. FYZICAL's therapists continually respond to advances in research, technology, science, and health care. Beyond the degree and licensing required by law, we certify our "FYZICALIST™" to meet the highest standards in the industry. Only then can they provide you with service. A core requirement for all our therapists is a loving, caring, and helpful personality.
Our Location
FYZICAL Therapy & Balance Centers are complete with state-of-the-art equipment for treating orthopedic problems, neurological conditions, sports injuries, balance disorders, and any aches or pains you might have. We have state-of-the-art equipment, including our Safety Overhead Support System (S.O.S). Our S.O.S System consists of an overhead track and moveable trolley that allows for freedom of movement, while secured in a simple, comfortable body harness, and it allows the ability to perform function types of activities with minimal risk of injury. The benefits of the S.O.S. System are:
==> Boosts Confidence – Reduces the fear of falling, allowing you to take the next step.
==> Natural Range of Motion – Allows for natural movement, as the S.O.S does not require upper body use like parallel bars.
==> Ultimate Safety – Provides a fall-free environment for balance and walking.
==> Advanced Therapy = Faster Healing – Allows you to rehab quicker and return to full strength faster.
==> User Friendly = Happy Patients – Safety harness can be put on easily from a standing or sitting position.
Patients who can benefit from the S.O.S System include:
==> Fall Risk
==> Dizziness
==> Total Knee/Total Hip
==> Ankle Sprains
==> Decreased Leg Strength
==> Head Injuries (TBI)
==> Spinal Cord Injuries
==> Strokes
==> Parkinson's
==> Multiple Sclerosis
==> Alzheimer's
==> Many other general orthopedic conditions
Having such top-notch equipment enables our therapists to design the most advanced, effective rehabilitation programs anywhere. You'll feel right at home in our clean, inviting facility, with staff members who are ready and willing to always help you. Experience the FYZICAL difference today. Give us a call at 602-666-6602 to schedule a FREE Fall Risk Assessment or email us at [email protected]
You can find us at 1807 E. Queen Creek Road, Suite 7, Chandler, AZ 85286, or visit our website, www.fyzical.com/airpark-south-chandler, for a wealth of educational information.