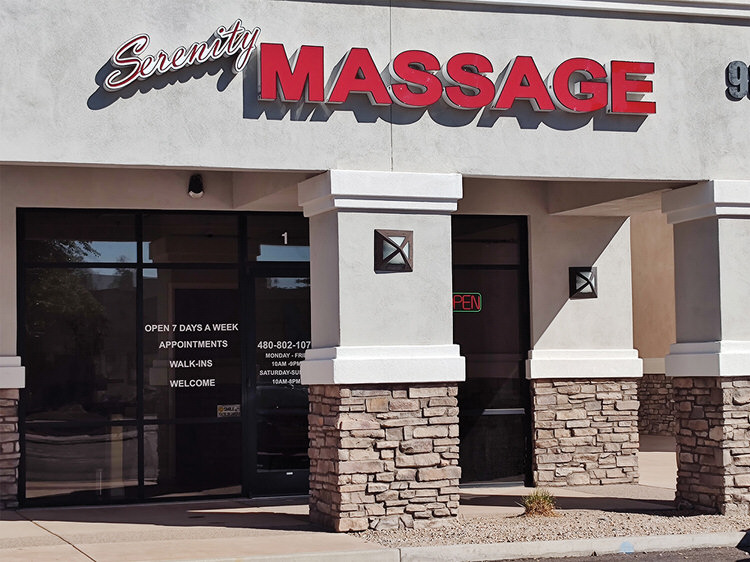 David Taylor
We all have aches and pains that affect our bodies, especially as we get older. It seems like many health care professionals prescribe some sort of pill or medicine to alleviate them. Whether a muscle strain, sports injury, or just the stress of life, relief from bodily pain is something every one of us can appreciate.
Did you know there is a medicine-free pain relief therapy that has been proven effective for thousands of years? Massage—the healing touch of human hands on one's body. There is now a massage salon and spa within a mile of the Sun Lakes community. Serenity Massage AZ, located at 985 W. Chandler Heights Road, Suite 1. Owner May Fox and her staff are professionally trained and licensed massage therapists. One of their specialty massage techniques is Asian Massage. Tui Na is the Chinese name for this technique. This massage helps to promote overall health by easing the flow of energy, or "qi," around the body. Kneading, rolling, and deep pressure applied to precise pressure points on the body are some of the techniques used to bring you back to good health.
Asian Tui Na massage releases muscle knots formed from long-term muscle contraction, spasms, or repetitive inflammation. This is a different approach than the traditional western massage techniques like Deep Tissue or Swedish massage. Serenity Massage AZ also offers all the therapeutic massage styles: Swedish, Deep Tissue, Couples Massage, Lomi Lomi, Thai, Hot Stone, Ashiatsu Barefoot, Aromatherapy, and Reflexology foot massage. Visit the website for further explanations of what these different styles entail. Ms. Fox and her staff will help counsel and guide you to the best massage style for your particular needs.
Serenity Massage AZ has been opened in the Sun Lakes area for several months, but Ms. Fox and her staff have years of experience in the industry. Senior age massage is one of their specialties. The salon is very comfortable and serene, allowing for their clients to be completely relaxed. Couples are welcomed, as there is a couple's massage room. Showers are available at the spa as well. If you have not had the relaxing experience of a therapeutic massage, treat yourself and visit Serenity Massage AZ. Releasing the aches and pains our bodies encounter without taking medicine is a fantastic feeling.
Call Serenity Massage AZ at 480-802-1077 or visit www.serenitymassageaz.com for appointments and further information today.