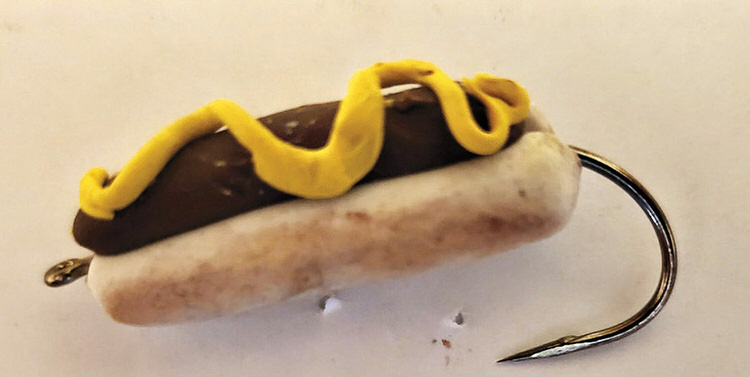 George Abernathy
Since starting the Sun Lakes Fly Fishing Club (SLFFC) several years ago, I've been approached by several bait fishermen about why the club doesn't include their style of fishing. My sincere answer then and now is: We are a fly-fishing club, i.e., Sun Lakes Fly Fishing Club. However, we welcome them to this sport as well as all residents, whether they are experienced or just starting out. We offer personal training to those who need and want it, and also help guide them through the process of purchasing the equipment they need to acquire to be successful. We also spend time with them, not only in a classroom situation, but more importantly, on the water. In order to help out the bait fisherman, "Norms Hotdog Fly" was developed to assist bait fishermen while transitioning into fly fishing.
The SLFFC has two primary functions, besides befriending others who enjoy fly fishing: Keep our lines wet and support the disabled veterans from Project Healing Waters Fly Fishing, Inc. (PHW). PHW is dedicated to the physical and emotional rehabilitation of disabled, active military service personnel and disabled veterans through fly fishing and associated activities, including education and outings.
PHW is a nationwide, non-profit, 50l(c)(3) organization incorporated in Maryland in 2007 and operates purely from donations. Every year, our club raises money for them as well as seeking out used equipment donations from residents. If you have fishing or camping equipment that's gathering dust and would like to donate it to an outstanding cause, please contact me directly.
Unbeknownst to many, Arizona has a variety of well-maintained fisheries throughout the state. As I have written in the past, Arizona just isn't 114,000 square acres of kitty litter and golf courses. Our state offers fishing throughout the entire year. The fall is an excellent time to land a variety of trout throughout the Mogollon Rim and the White Mountains, until the mountain lakes freeze over, which typically happens in December/January. If you enjoy catching bass on a spinning rod, wait until you hook one on a flyrod at one of Arizona's warm water lakes and rivers. Within a 45-minute drive from Sun Lakes, the Salt River offers excellent trout fishing and is stocked twice monthly by AZGFD with rainbow trout from October through March. In addition to fishing local waters year-round, club fishing trips are planned throughout other states as well.
Our club typically meets twice per month for breakfast at 8 a.m. on the first and third Tuesday, at the Cottonwood restaurant. We welcome anyone who is interested in fly fishing and would like to join us.
A plain and simple answer for
This riddle's what we wish:
Does fishing make men liars, or
Do only liars fish?
~New York World, 1900
Fish On! Fish On!